Rome academic and student travel
From: Rome Travel Links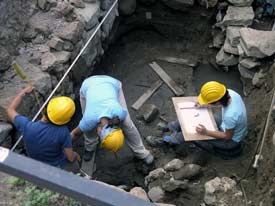 ABOVE: Archaeologists sift for artifacts in the Forum. INSET BELOW: Another Forum view.
General information
No Place Like Rome: Education
Elementary schools, high schools, universities, language schools, and arts/cultural schools are listed here. From No Place Like Rome.
Studying in Italy
A roundup of academic opportunities in Italy, from In Italy Online.
Universities (English-speaking)
American Academy in Rome
The American Academy is "the only American overseas center for independent study and advanced research in the fine arts and the humanities." While it isn't a university, it does have summer programs for teachers and graduate students.
American University of Rome
AUR was founded in 1969 to offer "an American education with a global experience." It caters to full-time students and semester or summer students from abroad.
CCIS: Rome Summer
The College Consortium for International Studies offers a six-credit program at the American University of Rome.
University of St. Thomas Bernardi Campus
St. Thomas, a Catholic university in St. Paul, Minnesota, operates its Rome program out of a residential estate on the banks of the Tiber River.
John Cabot University
This American institution offers B.A. degrees in art history, business administration, English literature, international affairs, and political science.
Loyola University Rome Center
Chicago's Catholic university has a self-contained campus in Rome, where students come from 30 U.S. colleges and universities. Be sure to read the student articles in Rinaldo's Café.
Temple University: Rome
T.U.R. accepts 90 to 130 students into its one- and two-semester programs. Courses include visual arts, architecture, liberal arts and Italian studies, and international business. Temple also four-and six-week summer sessions in Rome.
Language schools
Scuola Leonardo da Vinci
In addition to general language courses, this school offers specialized short courses such as "The Language of Fashion," "The Language of Architecture," and "The Language of Wine and Food."
Torre di Babele
The "Tower of Babel" language school offers for everyone from beginners to Italian teachers.
---
---
Top photo copyright © Mel Bedggood.
Inset photo copyright © Bill Grove.