Rome dining and food
From: Rome Travel Links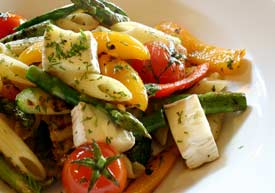 ABOVE: When in Rome, eat as the Romans do. INSET BELOW: Gelato, the Italian ice cream.
Directories and advice

Fodor's Restaurant Index - Rome
Use the alphabetical index links at the top of the page to find restaurant reviews.
Dining, Shopping, and Lodging
Several favorite restaurants and a gelato parlor are described on this page from Stuardt-Mikhail Clarke's All Roads Lead to Roma.
Restaurants
Autogrill's Ciao Ristorante romeforvisitors.com
If you're on a budget or simply feel like dining in a self-service restaurant, the Ciao Ristorante locations at Termini Station, on the Via del Corso, and in Fiumicino Airport are likely to please you.
Ristorante Girarrosto Toscano
Florentine and other Tuscan dishes make up the menu at this first-class restaurant near the Villa Borghese.
---
---
Top photo copyright © Adam Booth.
Inset photo copyright © Lisa Kyle Young.