Rome history
From: Rome Travel Links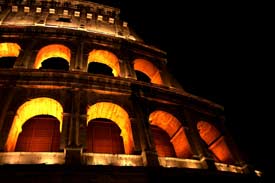 ABOVE: At night, the Colosseum resembles a Halloween jack-o-lantern. INSET BELOW: Another view of the arena.
Rome Reborn
Before visiting the Eternal City, see what it looked like at the height of its development in 320 A.D. The site's gallery includes still images and video clips of a computer-generated 3D model.
Ancient/Classical History
N.S. Gill's site has articles and collections of links about early Rome and the Roman Empire.
Ancient Rome
Pick and click from this large selection of documents on Roman history, courtesy of Teacher Oz's Kingdom of History.
Archaeology: Learning to Read Rome's Ruins
This series of pages on Roman archaelogy is from the U.S. Library of Congress Vatican Exhibit.
---
---
Top photo copyright © Bryan Weinstein.
Inset photo © Robyn Koop.
"Best of the Web"
- Forbes and The Washington Post
---
Advertisement:
---

Guaranteed lowest rates from
Europe's No. 1 booking service:

All places to stay in Rome

Romantic & honeymoon hotels

Airport hotels (Fiumicino)

Cruise hotels (Civitavecchia)
---

Also see:
Venice for Visitors
"The premier visitors' site for Venice, Italy."
- PC Magazine