Rome practical information
From: Rome Travel Links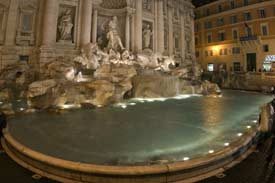 ABOVE: An evening visit to the Trevi Fountain. INSET BELOW: An RV parked in Trastevere.
Accessible travel

Sage Traveling: Rome Accessibility
A wheelchair user wrote this page of tips for disabled and elderly tourists, which incorporates observations from the author's own experiences.
Rome in a Wheelchair
This page from Travelocity has more tips for visitors who need to roll through Rome.
Accessible Italy (1)
The H- Travel department of Regency San Marino srl offers group tours and individual travel throughout Italy for disabled tourists. Wheelchair, electric scooter, and portable "suitcase ramps" are available for rental.
Accessible Italy (2)
Massimo Micotti's firm has offices in Rome and Turin, and it has provided travel services to disabled tourists throughout Italy since 1993.
Internet access
Cellular Abroad's MiFi Mobile Wi-Fi Hotspot
Rent a pocket-size device that includes unlimited Wi-Fi bandwidth for up to five smartphones, tablets, computers, etc. at once. (Unfortunately, it's available only to residents of the U.S. and Canada.) From Venice for Visitors.
Language
Italian Language
Before you head for Italy, study the language with help from Michael San Filippo.
Fodor's Living Language
Scroll down past the ads to select (and hear) travel phrases by category.
Italian per chi viaggia
Use the "Submit" button to reach collections of recorded phrases. This site also has links to an English-Italian dictionary and other resources.
Lost property and theft
The Tourist: A Thief's Dream
Vickie Mills briefly describes petty crime in Rome and warns of a tourist bus route that's "notorious for pickpockets." From Rinaldo's Café.
Maps
Rome Map europeforvisitors.com
This Google map is based on satellite-photo data.
Neighborhood Locator Maps
These maps of Da Vinci Airport, the Rome Metro, the area around the railroad station, etc. are from All Roads Lead to Rome.
Medical and dental treatment
A Hospital in Rome europeforvisitors.com
Durant Imboden's first-person report is subtitled "A foreigner's adventure with Italian medical care."
No Place Like Rome: Health Care
A helpful list of specialists and institutions from No Place Like Rome.
Money
Europe for Visitors Money and Currency Articles
Read these articles on ATM cards, hidden credit-card surcharges, mind-boggling "traveler's check card" fees, the euro, and other financial topics for travelers.
Weather/climate
Rome Weather Forecast europeforvisitors.com
See current conditions and get a 10-day forecast in metric or English units. The page also has links to month-by-month climate averages, sunrise/sunset times, and the current time in Rome.
Weddings
St. Patrick's: The Irish National Church in Rome
If you're Catholic and want to be married in Rome, see the weddings information here.
Weddings in Rome
The Paulist Fathers can help English-speaking Catholics arrange a wedding at St. Peter's Basilica or the Church of Santa Susanna in Rome.
---
---
Top photo copyright © Christian Noval.
Inset photo copyright © Neil Barman.