Rome miscellaneous links
From: Rome Travel Links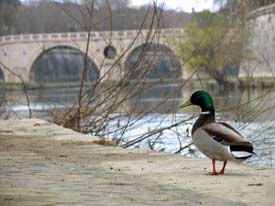 ABOVE: A duck toddles along the Tiber. INSET BELOW: Wet fountain, white statue, blue sky.
Cats
Torre Argentina Cat Sanctuary romeforvisitors.com
At the Largo di Torre Argentina in central Rome, you can watch cats at play among the stone walls and broken columns of excavated Roman temples. You can also visit the shelter, which is under the sidewalk next to the ruins.
Church for Foreigners

The Church of Santa Susanna
The "home of the American Catholic Church in Rome" has a schedule of masses, tips for new residents from abroad, and information on tickets to Papal audiences.
Gay/Lesbian Travel
Gay Guide Rome
These pages are from Gay Guide Europe (a.k.a. Patroc.com), which has local gay guides for many European cities.
Organizations
Star Trek Italian Club
There isn't much information here, and the text is in Italian, but it's reassuring to know that Kirk, Spock, Picard, Data, and other citizens of the Federazione have friends in Italy.
---
---
Top photo copyright © Stefano Corso.
Inset photo copyright © Danny Bailey.