Rome photos and Webcams
From: Rome Travel Links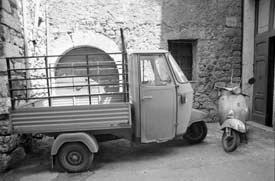 ABOVE: A three-wheeled truck and a motorscooter in Rome. INSET BELOW: An old woman walks barefoot on cobblestones.
Photos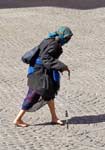 FreeFoto.com: Italy
Use the navigation menu to find collections of Rome and Vatican pictures from Ion Britton's FreeFoto.com.
Rome - Photograph and Monumenti
An extensive collection of professional-quality photographs from Travel Italy.
Virtourist.com: Rome
Tour the Eternal City by slide show.
Panoramas from Rome
You'll need the Apple QuickTime plug-in to view these full-screen, zoomable images from The Washington Post.
Webcams
Capitolium.org
Click on the thumbnail photo for a dramatic livecam view from the terrace of the Palazzo Senatorio, then use the sliders to move the camera--assuming that the Webcam isn't out of action, as Webcams frequently are.
---
---
Top photo copyright © Arne Thaysen.