Rome tours and itineraries
From: Rome Travel Links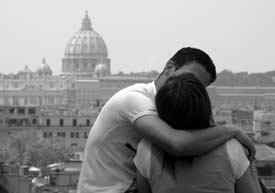 ABOVE: Don't be afraid to take an occasional break from sightseeing. INSET BELOW: A cool-weather visitor admires a fountain.
Suggested itineraries

The Papal Villas of Latium
Visit the Palazzo Farnese in Caprarola or the Villa Lante at Bagnaia, using this suggested itinerary from In Italy Online.
Rome's Ghetto: The Old Jewish Quarter
This illustrated article is from the "Curious and Unusual" section of Virtual Roma. (The site can be maddening to navigate; if you can't find your way out of a page, scroll down for a menu.)
See the Eternal City in Less than an Eternity: Rome in a Day
This article from Noambit, a travel site and purveyor of audio guides, tells how to make the most of a quick trip to Rome.
Sightseeing tours
Tiber River Sightseeing Cruises romeforvisitors.com
Battelli di Roma offers "hop-on, hop-off" itineraries, dinner cruises, and a "wine bar" cruise on the Tevere.
Viator Tours and Excursions: Rome our partner
Book city tours, regional day trips, "hop on, hop off" sightseeing-bus passes, and Papal audiences online before you leave home. Viator guarantees prices in euros, British pounds, and U.S. or Australian dollars.
Comedy Walk
Stroll through Rome with two performers from the Miracle Players who offer an alternative view of the Eternal City's "bizarre facts, quirks, and idiosyncrasies." The group also performs tongue-in-cheek history plays at The Roman Forum.
WalksInsideRome
Three guides, all licensed since 1991, offer private and semiprivate tours with a variety of mainstream and specialized themes (such as "Underground Rome," "Dan Brown's Angels and Demons," "Jewish Rome," and "Rome for Kids").
Insight Rome: Cultural walking itineraries
This local tour company provides a variety of escorted walks for small groups. Car transportation is available, and the firm arranges bus excursions for associations and tour operators.
Mirabilia Urbis Tours
Choose from eight specialized walking tours organized by Daniella Hunt, who has a degree in Classics and teaches ancient Roman history.
Rome Made to Measure
Sergio Coggia's staff of professors, scholars, artisans, and other expert guides offer personalized walking tours on subjects such as history, art history, architecture, and archaeology.
Scala Reale
This cultural organization specializes in architectural itineraries in and around Rome. Most are walking tours, but some are by bicycle or minivan.
Bellews Tours (Audiocassettes)
Cicerone "Walk With Me" self-guided tours include audiocassettes and large printed maps. They're available for Rome, Venice, Florence, Siena, and Pisa/Lucca.
---
---
Top photo copyright © Soundsnaps.
Inset photo © Merrell Wreden.