Rome transportation
From: Rome Travel Links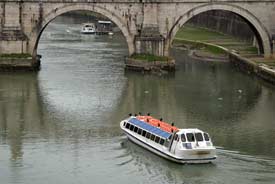 ABOVE: In the last few years, Rome has reinstituted passenger-boat service on the Tiber. INSET: Departures board in a Roman train station.

Tips on traveling in Italy:
If you plan to drive in Italy, read our articles on driving in Europe and car rentals: when to rent, when to lease.
If you're touring Italy by train, read our article on European rail passes, which will help you decide whether a pass will save you money and which type of pass you should buy.
Airports
Rome Fiumicino Airport
romeforvisitors.com
Our illustrated four-page article has up-to-date information on Fiumicino-Leonardo da Vinci Airport's terminals and check-in procedures, along with useful Web links. Also see our illustrated article about the Leonardo Express and commuter trains between Fiumicino and Rome, and our step-by-step guide to using Trenitalia's ticket machines.

If you're flying Ryanair, easyJet, Wizz Air, or a charter carrier to Rome, read our Ciampino Airport ground transportation article for advice on reaching the city.
Airports of Rome
Aeroporti di Roma's official Web site is geared more to shoppers than to travelers, but it has some practical information about Fiumicino (Leonardo da Vinci) and Ciampino Airports. If you have an early-morning flight from FCO, consider staying at the Hilton Rome Airport, which is connected to the terminals by a covered elevated walkway.
Cruise and Ferry Port
Civitavecchia (Port of Rome) romeforvisitors.com
Our 35 pages of Civitavecchia articles and photos include a Civitavecchia city guide, information about the cruise and ferry port, advice on traveling from Rome to Civitavecchia or Civitavecchia to Rome by train, a Civitavecchia hotel review, and more.
Rome City Transportation
Rome Metrebus Tickets and Fares romeforvisitors.com
Our illustrated article includes a video that shows how to purchase Metro, bus, and streetcar tickets from vending machines at Metro stations or larger tram stops. Also see these illustrated articles:
ATAC
The city's public-transit agency has a point-to-point journey planner, fares, maps, and other information on getting around Rome by subway, tram, or bus.
Oikos: Transport
Scroll down past the general information to find rental listings for bicycles and motorscooters.
No Place Like Rome: Transport
A compact guide to Rome's train stations and public transportation system, with tips on driving and walking.
My Cab in Rome
Raffaele of My Cab in Rome tell us that "I work with passion and take care of my guests." He and his colleagues offer private airport and cruise transfers at fixed rates, along with half- and full-day tours by taxi from Rome and Civitavecchia.
Long-distance Transportation
Travel Planner: Italy: Transportation europeforvisitors.com
This page from the Italy section of our Europe Travel Planner has links to Italian railroad timetables and driving information.
---
---
Top photo copyright © John Christian Loningdal.
Inset photo copyright © Maria Valentino.