Tiber River Sightseeing Cruises
Page 2
Continued from page 1
By Durant Imboden
More Battelli di Roma photos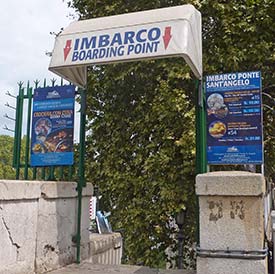 At the Ponte Sant'Angelo stop, across from the Castel Sant'Angelo, signs mark a staircase that leads from the street to the boat landing on the Tevere (a.k.a. the River Tiber).
---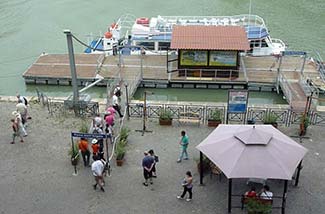 The Ponte Sant'Angelo landing has a ticket office, a floating dock for Battelli di Roma's sightseeing boats, and a shelter where passengers can find shade while waiting for their boat to arrive.

---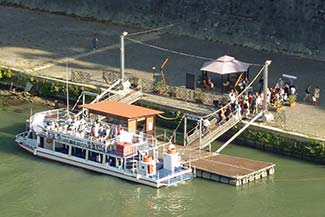 Here's another view of the Stazione Ponte Sant'Angelo, which was taken from the Castel Sant'Angelo on the opposite side of the Tiber. The double-deck boat in the photo is one of the larger vessels in the Battelli di Roma fleet, with a capacity of 102 passengers.

---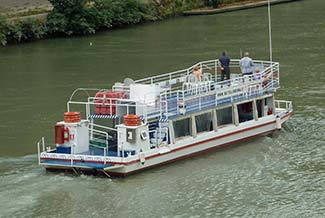 The 102-passenger Cornelia entered service in 1997.

---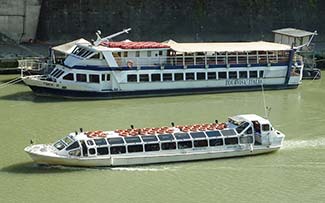 The Rea Silvia (shown in the foreground) is one of several Battelli di Roma vessels that offer "hop on, hop off" service at two landings on the Tevere.
---

As you cruise along the Tiber, you may encounter kayaks, rowing shells, and other boats (including the occasional cargo or construction barge).
---

This photo shows two Battelli di Roma boats on the Tevere, with a bridge on the left and a high retaining wall behind the riverbank. A walkway runs along the water.
---
Video
Back to: Tiber River Sightseeing Cruises - Introduction
---
---

"Best of the Web"
- Forbes and The Washington Post


About our site
---
Suggestions from our booking partner:

---

Need a car in Europe?
If you live outside the EU, a tax-free tourist car lease can be cheaper than renting for visits of 21+ days. Minimum driver age is 18, there' s no upper age limit, and rates include insurance.

Renault Eurodrive car leases
---

Pre-book airport transportation, cruise transfers, and local tours:

Rome transfers & ground transport

Rome tours and day trips
---

Also see our Venice trip-planning sites:
Venice for Visitors
"The premier visitors' site for Venice, Italy."
- PC Magazine
QuickVenice
All the basics for shorter trips.
---