Leonardo Express
Page 4
Continued from page 3
By Durant Imboden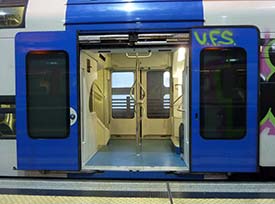 ABOVE: A commuter train at Fiumicino waits for passengers to Trastevere, Ostiense, Tiburtina, Termini, and other stations in Rome.
Cheaper trains and other Rome stations
The Leonardo Express is a quick way to get from Fiumicino Airport to Termini Station, but there are several reasons why you might want to consider taking an FL1 commuter train into Rome:
1. The FL1 train stops at secondary stations in Rome, including Trastevere, Piramide/Ostiense (where you can change to the Metro's B Line), and Tuscolana (where you can change to the Metro's A line). It does not go to Termini.
2. If your final destination is the cruise port in Civitavecchia, you may prefer to change trains in Trastevere instead of going to Termini and backtracking. (Trastevere is a smaller station, which makes it more convenient for changing trains if you don't mind climbing stairs from and to the platforms.)
3. Commuter trains are cheaper than the Leonardo Express. (The last time we checked, a ticket on the FL1 commuter train into Rome cost 8 euros, compared to 14 euros for the Leonardo Express.)

4. If you've made the mistake of traveling with large, heavy luggage, you may find it easier to wrestle your bags onto a commuter train and park them in the large vestibule near the doors. (Tip: If you do this, sit where you can keep an eye on your luggage at intermediate stops.)
FL1 commuter trains depart from Fiumicino Airport's railroad station. (Look for a double-deck train on the opposite side of the platform from the Leonardo Express.)
The trains run four times per hour from Monday through Saturday and twice per hour on Sundays or holidays.
Back to: Leonardo Express - Introduction
---
---
---
"Best of the Web"
- Forbes and The Washington Post


About our site
---
Suggestions from our booking partner:

---

Need a car in Europe?
If you live outside the EU, a tax-free tourist car lease can be cheaper than renting for visits of 21+ days. Minimum driver age is 18, there' s no upper age limit, and rates include insurance.

Renault Eurodrive car leases
---

Pre-book airport transportation, cruise transfers, and local tours:

Rome transfers & ground transport

Rome tours and day trips
---

Also see our Venice trip-planning sites:
Venice for Visitors
"The premier visitors' site for Venice, Italy."
- PC Magazine
QuickVenice
All the basics for shorter trips.
---