Rome Fiumicino Airport
Page 4
Continued from page 3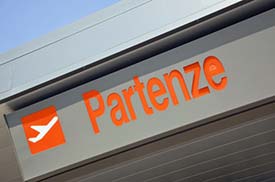 ABOVE: A departures sign in Italian.
Fiumicino Airport Web links
Aeroporti di Roma: Fiumicino
ADR's English-language Web pages can be confusing at first glance, but the site does have timetables and enough shopping information to keep you busy if you've won a lottery and are stuck at FCO.
Hilton Rome Airport
This comfortable, well-equipped hotel is connected to the terminals, shops, restaurants,and train station at Fiumicino Airport by an enclosed pedestrian bridge. It's by far the most convenient hotel for catching an early-morning flight from FCO. Although the hotel isn't cheap, our Booking.com link offers guaranteed lowest rates.
Slow Travel Italy: Rome Airport Guide (FCO)
This site's information is exhaustive, and it includes a Google Map of the airport.
Ron in Rome! Arriving in Rome-Fiumicimo (FCO)
An American expat and blogger in Rome gives illustrated advice on traveling between the airport and Rome.
In Transit: FCO Terminal 5
Elisabeth Rosenthal wrote this article for The New York Times in 2008, when Terminal 5 (used for departing flights by U.S. airlines and El Al) had just opened.
Back to: Rome Fiumicino Airport - Page 1
---
---
---
"Best of the Web"
- Forbes and The Washington Post
---

Guaranteed lowest rates from
Europe's No. 1 booking service:

All places to stay in Rome

Romantic & honeymoon hotels

Luxury hotels

Budget hotels

Airport hotels (Fiumicino)

Cruise hotels (Civitavecchia)
---

Staying a few days or longer?
Live like a local and save:

Rome vacation apartments
---

Also see our Venice trip-planning sites:
Venice for Visitors
"The premier visitors' site for Venice, Italy."
- PC Magazine
QuickVenice
All the basics for shorter trips.
---
---

From Durant and Cheryl Imboden: