Accessible Switzerland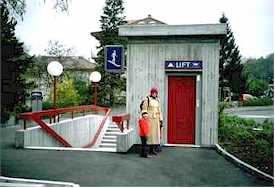 ABOVE: This elevator on the outskirts of Thun, between Bern and Interlaken, leads to a pedestrian and wheelchair tunnel under a busy road. Another elevator at the far end of the tunnel provides access to Lake Thun and its shoreline paths.
Switzerland is a country that poses challenges for wheelchair-bound travelers, if only because its most scenic areas are mountainous. Still, the Swiss have made great strides in improving access for disabled tourists, so there's no reason to let an Alp stand in your way of your travel plans.
Transportation
According to Switzerland Tourism, more than 150 railway stations now have wheelchair ramps, and another 150 have special wheelchair lifts to help passengers on and off trains. In smaller towns, station employees may lift wheelchair passengers on and off the train by hand.
Many lake steamers are wheelchair-accessible. (The main deck is usually at the same level as the landing platform or gangway.) Check with the local boat ticket office, since some sailings may be more wheelchair-friendly than others. And don't bother paying extra for a first-class ticket. Second class is just as comfortable, and the cheaper fare will save you from climbing stairs to the first-class deck on larger boats.
If you're driving, your vehicle's handicapped sticker or an International Wheelchair Badge on the dashboard will allow parking in designated spaces.
Accommodations
Hotels, pensions, and inns vary in their accessibility. Small inns in rural areas may not have elevators, but many do--although the lifts may be cramped, without automatic doors.
Newer or renovated hotels often have special handicapped facilities such as bathrooms with roll-in showers and toilets with grab bars. The Swiss Hotel Guide uses symbols to identify accessible hotels, and a special hotel guide for disabled travelers can be ordered by mail from Switzerland. (See Switzerland Tourism's "Travel Tips for the Disabled" in the list of links below.)
In resorts and rural areas, you can often save money by renting a private room (Privatzimmer) from a homeowner or farmer. Vacation apartments are another option if you're staying a week or longer. Local tourist offices can provide lists of such accommodations. However, since the lists seldom indicate which rooms or apartments are accessible, you'll need to inquire directly or ask the tourist office to check for you.
Public restrooms
Many cities and towns have special public restrooms for disabled travelers. Typically, these are unisex restrooms with the international wheelchair symbol on the door.
In train stations, the wheelchair restroom may be locked. If that's the case, you can borrow a key from the stationmaster or the clerk at the information counter.
General suggestions
Larger cities and towns such as Zürich, Geneva, Bern, and Lucerne are usually easy to get around, at least in the main tourist areas. Lakeside promenades are especially nice for wheelchair travelers.
In the mountains, don't hesitate to seek advice from the local tourist office. Many hiking paths are paved, some aren't at all steep, and quite a few are accessible by cogwheel train or cablecar. You don't need to be a wheelchair athlete to enjoy Switzerland's alpine scenery--although we'd recommend visiting mountain resorts in the summer, since ice and snow can make it difficult to get around on wheels during the winter.
Web link:
Mobility International Switzerland
Use the MIS "Travel Info" section to find databases, lists, travelers' reports, etc. for visitors with physical or mental handicaps.