Arosa, Switzerland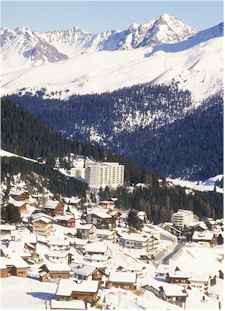 Lying at an elevation of 1,800 meters (5,904 feet) amid forests and tiny lakes, the village of Arosa in Canton Graubünden has attracted discerning visitors since an impoverished widow named Eva Ardusen began taking in paying guests from Chur in the mid-19th Century.
The village's first inn was built in 1877, and in 1886 the citizens voted to finance a winter season as a way to save their nascent tourist industry from bankruptcy. The population exploded from 88 male residents in 1888 to 1,070 in 1900. Although two-thirds of the winter hotel guests were tuberculosis patients at the turn of the century, sports activities were growing in importance. By 1911, Karl Baedeker was able to write:
"Arosa, one of the highest summer and winter resorts in Switzerland, frequented by consumptives, is situated at the head of the Plessur valley, at the bottom and on the sides of an upland basin, which ascends gradually toward the W. and N.W. and is surrounded by wooded heights. The air is pure and rich in ozone, while the relative moisture is slight; the mean temperature in January is 23º F., in July 54º F. The higher parts of the valley lie above the zone of trees. Among the attractions of Arosa are its fine pine-woods (numerous walks) and its rich Alpine flora. Skating, tobogganing, and ski-ing are favorite winter sports."
That description would be apt today, although skiing and--more recently--snowboarding have supplanted skating and sledding as the winter activities of choice.
Ideal for occasional skiers (and non-skiers)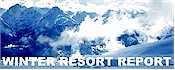 Arosa caters to beginning and intermediate skiers. Cross-country skiing is also popular, with 25 km (16 miles) of prepared trails and a Langlaufschule that offers lessons in classic and skating X-C techniques. Snowboarders are catered to by a "Snowboard Fun Park" in the Tschuggen ski area.
Even non-skiers will find much to enjoy in Arosa, thanks to more than 40 km (25 miles) of cleared winter hiking paths. Some of the paths even lead to mountain restaurants, and lifts offer one-way or roundtrip tickets to non-skiers. This makes it easy for a skiphobic spouse to lunch with a piste-happy hubby or frau. Other activities include sledding, curling, indoor golf, tennis, squash, swimming, and watching ice hockey. Public ice skating (with or without lessons) is available on a lakeside open-air ice rink or in the Eissporthalle.
Classic ambience for a traditional audience
Arosa's visitors generally stay in hotels, although chalet and apartment rentals are available. See page 2 for booking information.
Most dining is in hotel restaurants--during the season, half-pension arrangements are common--and there's plenty of aprés-ski activity in the hotel bars.
A short trip from Chur or Zürich
Arosa is easier to reach than many high-altitude ski resorts in Switzerland. From Chur, the narrow-gauge Rhätische Bahn has hourly trains that cover the scenic Arosa Line in 60 minutes or less. Total travel time via Chur from the Zürich railway station is about 2 hours 40 minutes. (If you're coming from Zürich Airport, add another half hour or so for the rail connection to Zürich's Hauptbahnhof, where you'll catch the train to Chur.)
Driving to the village is another option, but you won't need a car after your arrival. In Arosa, distances are short and lifts or free buses connect the major tourist areas.
Next page: Arosa tourist information, hotels, and transportation
---
---