Bernina Express
Page 2
Continued from page 1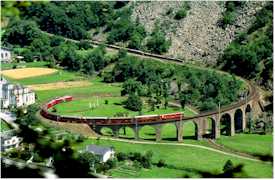 ABOVE: The Bernina Express on the spiral viaduct at Brusio.
Sightseeing
The Bernina Express is only one of several trains each day that cover the 38 miles (61 km) between St. Moritz and Tirano. This makes it possible to stop off along the way to hike or enjoy the local sights.
The most popular stopover is Bernina Diavolezza in Pontresina, where you can ride a cable car to a spectacular view and summer hiking or winter skiing. A mountain hotel, the Berggasthaus Diavolezza, has basic accommodations and a restaurant.
The town of Poschiavo in the Poschiavo Valley is also worth a visit if you have time.
Tirano, at the end of the line, has plenty of monuments to interest the tourist, including the Sanctuary of the Madonna di Tirano.
General Information links
Rhätische Bahn
See the railroad's Bernina Express pages for information, photos, and a timetable.
SBB CFF FSS Timetable
Plan your train trip with the easy-to-use Swiss Federal Railways timetable, fare guide, and online order form.
Swiss Rail Passes switzerlandforvisitors.com
Save money with the Swiss Pass, Swiss Card, Swiss Half-Fare Card, and other special deals for rail, bus, and boat travelers.
Photos
Rhaetian Railway - Bernina Line - Pictures
Railfans will appreciate these photos of locomotives and rolling stock.
Back to: Bernina Express - Introduction
---
---
Photo © Swiss-Image.ch.