Bernina Express
Page 3 - Web Links
Continued from page 2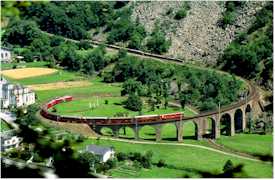 ABOVE: Bernina Express on the spiral viaduct at Brusio.
Article
The Independent: Bernina Express
Anthony Lambert, a British journalist, describes a 2006 trip in an article titled "Reach dizzying heights on Switzerland's Bernina Express."
Photos
Rhaetian Railway - Bernina Line - Pictures
Railfans will appreciate these photos of locomotives and rolling stock.
Photo © Swiss-Image.ch.