Champéry
Portes du Soleil, Canton Valais, Switzerland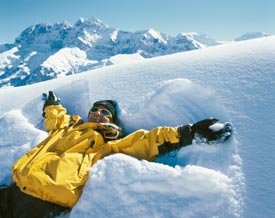 ABOVE: A skier makes a snow angel in the international ski area above Champéry.
For many skiers, half the fun of a Swiss vacation is living the chalet life in a village where Heidi would feel at home. Champéry is such a place--or would be if Heidi traded in her Schyzerdütsch for French.
Champéry is a ski resort where traditions die hard. Not so many decades ago, the writer Paul Guiton described the Val d'Illiez as "one of the most rural of the Alpine valleys, a great hollow where meadows gleam among the swirling woods. Champéry has a monumental air with its streets of high chalets and overhanging roofs....Throughout the valley, the women wear trousers like the men and smoke pipes."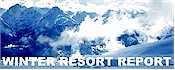 The high chalets and overhanging roofs are still there, although many of today's trousered females are perched on skis rather than milking stools. And you won't find glass hotels or clunky apartment blocks, thanks to a local ethic that favors preservation over bulldozers. What you will find are a few cozy hotels, a good selection of chalets and apartments, plenty of restaurants, a ski school, and kindergarten facilities for children. Non-skiers in your party can keep themselves occupied at the Sports Center, which offers an ice-skating rink, curling, swimming, and fitness equipment.
Snow, snow, and less snow
Champery and its neighboring Swiss and French resorts promote themselves as the "Portes du Soleil," and the sunny ski slopes live up to the advertising slogan's promise. This occasionally has its downside: Generous sun and a relatively modest elevation mean that snow can be in short supply, especially at the beginning and end of the season. But when the snow is good, intermediate and expert skiers can enjoy some 650 km (406 miles) of trails in the Portes du Soleil ski region.
Getting to Champéry
Champéry lies beneath the Dents du Midi, below the eastern part of Lake Geneva next to the French Alps.
By car, the resort is about an hour and a half from Geneva. The rail journey is a bit longer, but trains run about once an hour and you can easily change from the main line at Aigle for the cogwheel Aiglon-Ollon-Monthey-Champéry Railway (AOMC).
Next page: Champery Web links
---
---
"Best of the Web"
- Forbes and The Washington Post
---
---

Need a car in Europe?
If you live outside the EU, a tax-free tourist car lease can be cheaper than renting for visits of 21+ days. Other benefits:
Minimum driver age is 18.
No upper age limit.
100% insurance coverage.
Wide range of cars, vans, and SUVs.
To compare vehicles and rates, see:

Renault

Peugeot
For car rentals under 21 days:

Auto Europe
---

Traveling by train?
Get free schedules, maps, and guides for 50+ European railroads. (Residents of North and Central America can buy tickets and rail passes online.)