Champéry
Portes du Soleil, Canton Valais, Switzerland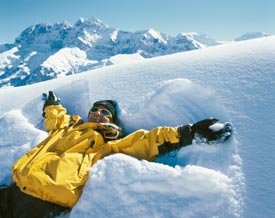 ABOVE: A skier makes a snow angel in the international ski area above Champéry.
For many skiers, half the fun of a Swiss vacation is living the chalet life in a village where Heidi would feel at home. Champéry is such a place--or would be if Heidi traded in her Schyzerdütsch for French.
Champéry is a ski resort where traditions die hard. Not so many decades ago, the writer Paul Guiton described the Val d'Illiez as "one of the most rural of the Alpine valleys, a great hollow where meadows gleam among the swirling woods. Champéry has a monumental air with its streets of high chalets and overhanging roofs....Throughout the valley, the women wear trousers like the men and smoke pipes."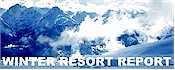 The high chalets and overhanging roofs are still there, although many of today's trousered females are perched on skis rather than milking stools. And you won't find glass hotels or clunky apartment blocks, thanks to a local ethic that favors preservation over bulldozers. What you will find are a few cozy hotels, a good selection of chalets and apartments, plenty of restaurants, a ski school, and kindergarten facilities for children. Non-skiers in your party can keep themselves occupied at the Sports Center, which offers an ice-skating rink, curling, swimming, and fitness equipment.
Snow, snow, and less snow
Champery and its neighboring Swiss and French resorts promote themselves as the "Portes du Soleil," and the sunny ski slopes live up to the advertising slogan's promise. This occasionally has its downside: Generous sun and a relatively modest elevation mean that snow can be in short supply, especially at the beginning and end of the season. But when the snow is good, intermediate and expert skiers can enjoy some 650 km (406 miles) of trails in the Portes du Soleil ski region.
Getting to Champéry
Champéry lies beneath the Dents du Midi, below the eastern part of Lake Geneva next to the French Alps.
By car, the resort is about an hour and a half from Geneva. The rail journey is a bit longer, but trains run about once an hour and you can easily change from the main line at Aigle for the cogwheel Aiglon-Ollon-Monthey-Champéry Railway (AOMC).
Web Links
Tourist information
Champéry, Switzerland
The village's official Web site has information in French and English.
Portes du Soleil
The region's "ski and bike" site has information on pistes, lifts, etc. for 12 resorts.
Independent review
Ski and Snowboard: Champéry
"Champéry is a mountain village that is waking up to the fact that it has turned into an international resort," where "the old chalets look lived in, the odor of cow manure wafts across the main street," and "a plucky kid (of the goat type) prances in the back of a station wagon." (The article was written in the late 1990s.)
Hotels, B&Bs, and chalets
Booking.com: Champéry
The last time we checked, our booking partner (which is Switzerland's leading reservations service) offered more than 15 hotels and other accommodations in Champéry.
For more listings, including private rooms, contact the local tourist office.
Transportation
Getting There
The official Champéry tourism site has Google Maps and directions for reaching the resort by car, train, and airplane.
SBB CFF FSS
Plan your train trip with this easy-to-use Swiss Federal Railways timetable and ticketing site.
Weather
6-Day Champéry Snow Forecast
Snow-forecast.com reports on snow conditions (current and predicted), with a Webcam view of a local ski lift.
Sports shop
Berra Sports
This shop has equipped skiers since 1938. It also sells or rents snowboards, with van transportation between the store and your hotel or chalet.
Ski packages
White Roc
This British ski specialist offers weekend packages, mid-week ski breaks, and longer holidays with hotel accommodations.