Davos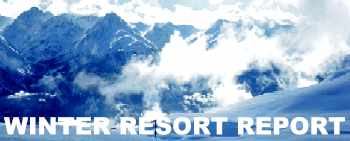 The twin resorts of Davos Platz and Davos Dorf have been popular with English-speaking visitors since the days when tuberculosis asylums, rather than ski slopes, were the main attraction. The 1911 edition of Baedeker's Switzerland listed no fewer than nine medical facilities in Davos Platz alone: among them, Dr. Turban's Sanatorium, the Queen Alexandra Sanatorium (exclusively for British patients), and the Fridericianum, run by a Dr. Mühlhäuser as "a school for delicate boys."
Still, winter sports certainly aren't new to Davos. A Ski Club existed before World War I, and Baedeker's 1911 guide assured the visitor:
In winter the weather is generally calm, and the power of the sun is so great that it is comfortable to sit in the open air even when the thermometer is below zero. Skating, tobogganing, curling, and ski-ing are actively pursued in winter, and an international skating competition is held in January on the rink opposite the Kurhaus (ca. 21,200 sq. yd. in area).
Today, Davos has a population of nearly 12,000, and the area's economy is based largely on tourism with an emphasis on winter sports.
The statistics are impressive:
An elevation of 5,120 ft. (1,562 m), which translates into reliable snow.

321 km (nearly 200 miles) of ski runs in the Davos-Klosters region, making this one of the largest ski areas in the world.

A capacity of more than 22,000 visitors in hotels, chalets, pensions, a hostel, and private rooms.

Non-alpine sports activities that include cross-country skiing, snowboarding, sledding, paragliding, curling, winter hiking on cleared paths, indoor swimming, and ice skating at a three-rink Eisstadion that has hosted the World Figure Skating Championships and professional hockey teams.
Restaurants, nightlife, museums, and shopping add to the area's attractions. Unfortunately, all this activity has a negative side: Davos lacks the village charm of a Wengen or a Zermatt, and this isn't the place to come if you're looking for a Heidi atmosphere. But it is a great area for skiing, and it beats quieter venues like Mürren or Arosa if you're a city person at heart.
Reaching Davos
Zürich is the usual air gateway to Davos for foreign visitors. From Zürich Airport, you can catch a train to the main railway station (Zürich Hauptbahnhof), where trains depart for Landquart and Davos at frequent intervals throughout the day. See SBB link below.
By car, the most direct route to Davos from Zürich is via Sargans and Landquart.
Recommended Web sites
Davos Klosters
The resort shares a Web site with Klosters, which is located nearby.
Booking.com: Davos
Switzerland's leading reservations site (and our booking partner) offers competitive rates on hotels, apartments, B&Bs, and inns in Davos and Klosters.
SBB
Use the Swiss Federal Railways interactive timetable to plan your trip to Davos, which will involve two railroads: the SBB and the Rhaetian Railway.
---
"Best of the Web"
- Forbes and The Washington Post
---
Advertisement:
---

Traveling by train?
Get free schedules, maps, and guides for 50+ European railroads. (Residents of North and Central America can buy tickets and rail passes online.)

Rail Europe