Geneva's Cointrin Airport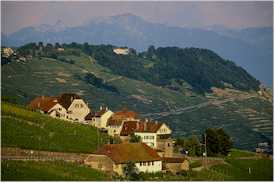 ABOVE: The vineyards and villages of Vaud, overlooking Lac Léman, are a short train trip from Cointrin International Airport.
The wealthy and cosmopolitan city of Geneva is the gateway to French-speaking Switzerland and the ski resorts of the Valais. More than 40 airlines connect the city to some 90 foreign and domestic destinations, including the U.S. cities of New York, Chicago, Miami, and Orlando.
Geneva's Cointrin International Airport is only 5 km (3 miles) from the city center. The terminal, which was built in 1968, is smaller than its Zürich counterpart but well equipped with the amenities you'd expect in a city that caters to international diplomats, business travelers, and wealthy expatriates from scores of countries. In recent years, the airport has undergone a major expansion in hopes of capturing a greater share of long-haul traffic to North America, Africa, and the Far East--a goal that makes sense in a city that hosts the United Nations, the World Health Organization, and International Red Cross.
You probably won't spend much time at the airport, but you may be tempted to spend quite a bit of money. Cointrin has dozens of shops, including two caviar stores, four chocolatiers, half a dozen jewelers, nine clothing shops, two department-store branches, and even a laundry/dry cleaner. (If you run out of folding money to use in the airport's bars and restaurants, don't worry--banks, ATMs, and currency-exchange machines can turn your dollars or drachma into Swiss francs.)
The airport has a nursery for children up to 10 years old. Sleeping rooms are available for adults who feel world-weary after long flights, and showers are available. The Geneva World Trade Center and Palexpo convention center are right next door.
Airport transportation
Cointrin Airport has its own Swiss Federal Railways (SBB/CFF) station, which is to your left as you exit Customs in the main terminal. Just follow the signs to the station, where trains depart for the main Cornavin railroad station in Geneva frequently throughout the day. The reasonably-priced trip into town takes only six minutes.
City bus #10 is even cheaper than the train. (But if you're on that tight a budget, you probably aren't staying in Geneva.) A few hotels offer shuttle buses, and taxis are available for those with lots of luggage and even more francs.
If you're headed for Lausanne, the Rhône Valley, or Italy, check the airport's SBB/CFF timetable for a direct train. That way, you won't have to change trains in the main railway station downtown.
Related Web link:
Geneva International Airport
The official GVA Web site has flight timetables, transportation schedules, shopping information, and more.
---
"Best of the Web"
- Forbes and The Washington Post
---
Advertisement:
---

Traveling by train?
Get free schedules, maps, and guides for 50+ European railroads. (Residents of North and Central America can buy tickets and rail passes online.)

Rail Europe