Getting Ready for Your Trip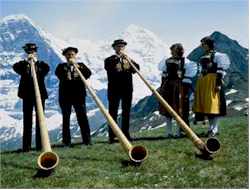 ABOVE: Are these men blowing bubbles or making music? Read our Alphorns article to find out.
Planning a trip to Switzerland, Austria, or Liechtenstein is now easier than ever, thanks to the Web. Not so many years ago, a town like Mendrisio, Switzerland or a castle like Austria's Heidenreichstein might have rated a paragraph in a guidebook. Today, each has a Web site with photos and practical information for visitors.
Here at Switzerland & Austria for Visitors, you'll find a whole slew of Internet resources to help you get started on planning your next vacation or business trip. You can locate articles on your favorite topics and destinations in a convenient subject index. Here are some examples of articles in various categories: