Healthy Altitudes
For better health, head for the hills.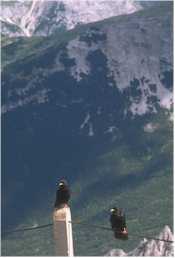 ABOVE: These birds in the mountains above Innsbruck stay trim and healthy by breathing alpine air. Maybe you should join them.
You've always been told that fresh air is healthy. Now, as it turns out, thin fresh air may be even better for you than the atmosphere at sea level!
In a three-week pilot study called AMAS 2000 (Austrian Moderate Altitude Study 2000), 62 men between the ages of 39 and 65 were tested in the alpine resort of Lech, Austria. All of the men were overweight, suffered from high blood pressure, and had high blood-sugar or cholesterol levels. The patients were prescribed mountain vacations with hikes ranging in elevation from 1400 to 2000 meters (4592 to 6560 feet). They enjoyed their regular diets, along with walks and light exercise.
Altogether, some 200 parameters were checked before, during, and after the vacations. The results showed measurable improvements in a number of health indicators that are listed on page 2.
Why did the men show improved health? Just getting away from the stress of work and daily routine could have been one factor--but an increase in the test subjects' young red blood cells suggests that altitude may also have played a part. Red blood cells carry oxygen to the heart and brain, and the additional cells gained during acclimatization to the thinner air may have contributed to a general improvement in the men's physical and mental condition.
Whatever the reason for the improvement, it seems fairly clear that a mountain vacation is a healthy way to spend three weeks. So, if you're looking for an excuse to visit Austria or Switzerland, or if you're trying to convince your spouse or lover to splurge on an alpine vacation, see the list of health benefits below.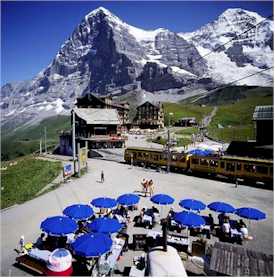 ABOVE: Kleine Scheidegg, gateway to the Jungfraujoch, is an easy hike at moderate altitudes from Wengen or Grindelwald (SNTO.
Health benefits of a mountain vacation
Some 2,000 parameters were checked before, during, and after the test subjects' vacations during the AMAS 2000 study. After a three-week stay, the tested vacationers:
had better heart and circulation, with lower bloodpressure and pulse levels. Some were able to lower dosages of blood-pressure medications or stop taking them altogether under medical supervision.
showed significant improvement in blood-sugar and cholesterol levels.
had an average weight loss of about two kilos (five pounds), even though they weren't on special diets.
slept better and longer than before.
showed improved reaction times.
had higher counts of young red blood cells, due to the increase of oxygen in the blood.
experienced a "positive neuro-psychological effect," as shows by a clear and sustained decline in subjective ailments and a more positive attitude toward life.
Information source: Austrian National Tourist Office, New York.
Middle and bottom photos copyright © Switzerland Tourism. Used by permission.
---
"Best of the Web"
- Forbes and The Washington Post
---
Advertisement:
---

Traveling by train?
Get free schedules, maps, and guides for 50+ European railroads. (Residents of North and Central America can buy tickets and rail passes online.)

Rail Europe