"HEALTHY ALTIDUDES" Page 1, 2, 3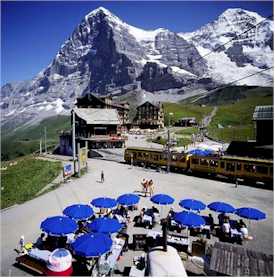 ABOVE: Kleine Scheidegg, gateway to the Jungfraujoch, is an easy hike at moderate altitudes from Wengen or Grindelwald (SNTO.
Health benefits of a mountain vacation *
Some 2,000 parameters were checked before, during, and after the test subjects' vacations. After a three-week stay, the tested vacationers:
had better heart and circulation, with lower bloodpressure and pulse levels. Some were able to lower dosages of blood-pressure medications or stop taking them altogether under medical supervision.
showed significant improvement in blood-sugar and cholesterol levels.
had an average weight loss of about two kilos (five pounds), even though they weren't on special diets.
slept better and longer than before.
showed improved reaction times.
had higher counts of young red blood cells, due to the increase of oxygen in the blood.
experienced a "positive neuro-psychological effect," as shows by a clear and sustained decline in subjective ailments and a more positive attitude toward life.
* SOURCE: First results of the pilot study AMAS 2000 in Lech, Austria; supplied by the Austrian National Tourist Office in New York.
Next Page > Related links, articles > Page 1, 2, 3
---
Photo copyright © Switzerland Tourism. All rights reserved.