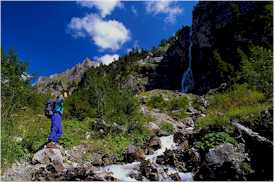 ABOVE: Hiking trail near Lenk, Switzerland.
Where to go
It's hard to give a definitive answer to the question, "Where should I hike in Switzerland?" Still, here are a few suggestions to help you make a decision:
The Berner Oberland is one of Switzerland's most popular regions. Most hikers gravitate to the Jungfrau district around Interlaken, and with good reason: The area's resorts offer hotels and hostels in every price range, hiking distances are short, and an excellent network of cogwheel trains, funiculars, cable cars, and other lifts make it easy to reach spectacular scenery.
For more information, see my articles on Interlaken, Wengen, Gimmelwald, Mürren, and Grindelwald-First. If you're coming early or late in the season, or if you aren't comfortable at high altitudes, you may enjoy the hiking paths near Thun and Brienz.
The Valais (Wallis in German) tends to be drier than the Oberland, so it may be a good bet if your vacation is short and you can't afford to lose a day or two to rain. For more information with Web links, see my articles on Zermatt (including the Matterhorn) and Leukerbad.
Graubünden (and especially the Engadine district near St. Moritz) is justifiably popular for its beautiful scenery and accessible mountain trails. The Swiss National Park is worth a visit if you'd like to see ibex, chamois, and other wild animals in their natural habitat.
Eastern Switzerland is the perfect destination if you consider yourself a "walker" rather than a "hiker." Although the region has a few mountains like the Säntis, most paths lead through green hills and valleys where miniature cows are more common than mountain goats. Distances are short and public transportation is excellent, whether you make your base in a small city like St. Gallen or (preferably) in a cozy town like Trogen or Appenzell.
Ticino, the Italian-speaking canton on the south side of the Alps, is a good place to hike in spring and fall.
Finally, cities like Zürich, Geneva, Bern, Lausanne, and Lucerne offer plenty of hiking opportunities nearby--especially if you combine your hiking with local excursions by train, postal bus, or lake steamer.