ABOVE: A workaholic skier takes to the air in Hintertux.
Hintertux may not be as familiar a name to American skiers as Lech, St. Anton, or Zürs. But this resort in Austria's Tyrol has something that most of its rivals don't: year-round glacier skiing for skiers of all abilities.
The village is the best known of five small resorts in the Tuxertal, a side valley of the Zillertal a few kilometers southwest of Mayhofen. Hintertux and its neighboring towns offer 200 km (125 miles) of ski trails in the winter season, with plenty of marked trails and off-piste skiing opportunities on the glacier during the summer. Snowboarding is also popular. Nearly 5,000 beds in hotels, pensions, and private homes cater to big-spending or budget visitors.
How to reach Hintertux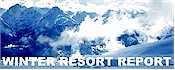 Hintertux is 230 km (144 miles) from Munich Airport by car. From Innsbruck, it's 90 km (56 miles). Leave the east-west A12 Autobahn at Highway B169, the exit for Mayrhofen and the Zillertal. Drive to Mayrhofen, then take the branch road to the Tuxertal. (Tire chains are required during snowstorms, so be prepared if you're visiting in winter.).
It's possible to reach Hintertux from Innsbruck or Munich by taking the train to Mayrhofen and continuing by local bus to the Tuxertal. Use the German-language ÖBB railroad trip planner to work out an itinerary. The legs of the journey are:
1) Train from Innsbruck or Munich to Jenbach.
2) A four-minute walk to the Jenbach Zillertalbahn station.
3) Train from Jenbach Zillertalbahn to Mayrhofen.
4) Bus from Mayrhofen to Hintertux.
Travel time is about 1 hour 42 minutes by train, plus the short local bus ride from Mayrhofen to your resort in the Tux Valley.
Another option is to hire a taxi at the Jenbach railway station; see Tux im Zillertall's access page for phone and fax numbers of taxi services.
Web links for the Tuxertal