Inline Skating
in Switzerland & Austria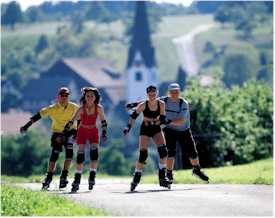 Ask a foreigner to list summer outdoor sports in Switzerland and Austria, and the answers are likely to include hiking, mountaineering, and bicycling. An adventure traveler might think to add paragliding or white-water rafting, but most tourists would fail to mention one of the region's fastest-growing sports: Inline skating.
Inline skating has exploded in popularity over the last few years. Today, Switzerland alone has an estimated 800,000 inline skaters. Cities like Zürich, Lucerne, and Vienna have weekly "group skates" that combine exercise with socializing, and a number of skate parks (including a few with indoor facilities) exist in the two countries. Racing is also growing in popularity, and one of the better-known marathons--the Swiss Inline Cup Engadine/St. Moritz in early July--draws more than 4,500 participants from 20 countries.
Still, you needn't be social or athletic to enjoy Rollerblading in Switzerland and Austria. If you'd rather enjoy the scenery than risk life and limb on an Alpine pass, you'll find plenty of flat or gently rolling paths where skating isn't synonymous with suicide. For more information, see the links below.
Equipment: Bring or rent?
Don't count on finding skate rentals in Switzerland or Austria. Although some shops may offer skate hire, there's no guarantee that you'll find equipment in the areas where you want to skate. It's better to play it safe by bringing your own skates, helmet, pads, etc. (You'll also save money that way, since prices tend to be high in Switzerland and Austria.)
Rules of the road
In Switzerland, skating on public streets is allowed only in areas of light traffic such as residential neighborhoods or secondary roads in the country. Skating is permitted on bicycle paths, hiking trails, and sidewalks only when it doesn't interfere with cycle or pedestrian traffic.
In Austria, public skating is limited to pedestrian-only zones, sidewalks, urban bike paths, and rural trails marked with blue cycling or hiking signs.
Remember: In both Switzerland and Austria, skaters must always give pedestrians the right of way on sidewalks and defer to bicycles on bicycle paths.
When you're unsure about where to skate, check with the local tourist office, a skate shop, or a skating club.
Swiss and Austrians are very insurance-conscious, so it's a good idea to make sure that your household or renters' insurance covers your liability for personal injuries caused by skating accidents abroad.
Be sure to check your medical coverage, since you may be one of the more than 60,000 people injured in Swiss and Austrian skating accidents every year. (To find companies that offer short-term medical and trip-interruption insurance for travelers, see the Travel Insurance article at Europe for Visitors.
Swiss Skating Links
SkateLog.com: Switzerland
Kathie Fry, who may be the world's leading guide to the world of inline skating, offers a good collection of Swiss skating links.
BodenseeSkating
The last time we checked, this site hadn't been updated in a while, but much of the information about skating around the Bodensee (Lake Constance) is still useful.
Austrian Skating Links
SkateLog.com: Austria
Kathie Fry has an extensive collection of skating links for Vienna and other Austrian cities.
Photo © Switzerland Tourism. All rights reserved.