Interlaken, Switzerland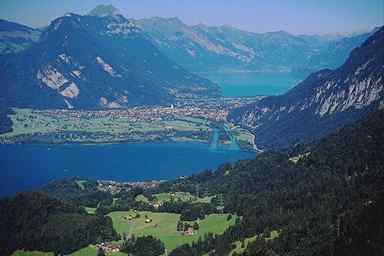 ABOVE: Interlaken, Switzerland with Lakes Thun and Brienz.
Joel Cook, a American travel writer of the early 1900s, described Interlaken eloquently (albeit with too many commas) in a guidebook titled Switzerland: Picturesque and Descriptive that was published in 1904. To show how little has changed in the tourist capital of the Jungfrau region, I'm going to let Mr. Cook describe Interlaken before I provide excursion suggestions and Web links to help you plan your trip to the heart of the Bernese Oberland.
---
Interlaken
Here upon the delta between the lakes, amid the ancient villages, which are probably the most unique in Switzerland, the rush of the latter-day army of tourists, has reproduced in these gorgeous mountains, the modern Parisian elegance of the hotels of Interlaken--"Between the Lakes." The fine avenue of the Höheweg, shaded by walnut and buttonwood trees, stretches along the plain, and these hotels are mostly built along its northern border. This avenue extending from northeast to southwest in the main avenue of the town, and in the season develops a grand display of fashionable life.
The southern side of the Höheweg is practically unobstructed by buildings. From it the green meadows spread over to the opening of the Lütschine gorge, with the Lauterbrunnen vale beyond. Interlaken is known as the "City of One View," and here it is, through this opening into the very heart of the Oberland range.
Elsewhere the views are circumscribed and commonplace, but here is a most gorgeous display. On one side of the opening are the pine-fringed cliffs of the Schynige Platte, and on the other hand, the precipices rise abruptly to the pastures of Mürren high above, but further away. Between them, the beautiful vista is closed by the great cliffs and glaciers of the snow-covered Jungfrau. The Virgin mountain, a white-hooded maiden, is gently leaning over and ever confessing to the attendant Monk, standing by her side. This is one of the greatest views in Switzerland, for in all the Alpine region, none other, so well combines and contrasts the pastoral beauty and wild grandeur here displayed.
---