Interlaken, Switzerland
Continued from page 2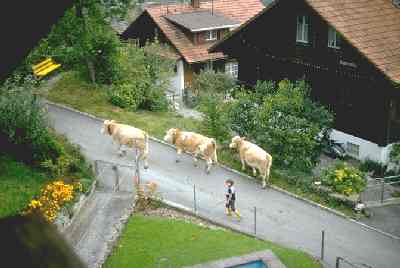 ABOVE: A boy leads cows from the village to a pasture in Ringgenberg, which adjoins Interlaken on Lake Brienz
Excursions
Regional transportation articles
Harder Kulm, Interlaken
The Harder Kulm viewing platform and restaurant offer great views of Interlaken and the Jungfrau Massif. Best of all, you can get there easily (and inexpensively) by funicular from the outskirts of the village.
Firstbahnen Grindelwald
This aerial cableway started out as Europe's longest chair lift. Today, it uses small gondolas to transport hikers, skiers and tourists up the mountainside. You'll enjoy spectacular views on the ride up and from the upper station, where you can have a meal or snack before hiking or riding back down.
Jungfraujoch Railway
Europe's most spectacular mountain railway is high in elevation, popularity, and price. Learn what makes it unique and how to trim your ticket costs by up to 50%.
Jungfraujoch Ice Palace
Explore a tourist attraction carved inside Europe's longest glacier.
Niesenbahn
This 90-year-old funicular leads to spectacular views, hikes, and a mountain inn overlooking Lake Thun.
Stockhornbahn
Ride a cable car, hike a nature path, or try a 100m bungee jump.
Activities/Sport
International Jungfrau-Marathon
Move those cows out of the way, because 2,500 runners chase medals in the Bernese Oberland every September.
White-Water Rafting in Interlaken
Even a weekend adventurer can enjoy a white-knuckle experience on white water.
Resorts near Interlaken
Beatenberg
On a mountainside just minutes from Interlaken, you'll find an unspoiled paradise for hikers and skiers.
Brienz
This pretty town near Interlaken has woodcarvers, an antique steam cogwheel railway, and the Swiss Open-Air Museum. It's easy to reach by train or, better yet, by lake steamer.
Gimmelwald
Is this bucolic village really off the beaten path? Many fans of the Rick Steves Europe Through the Back Door guidebooks think so, but Gimmelwald's backwoods charm has attracted tourists (and travel writers) for a century or more.
Lauterbrunnen
Ride the train or drive to a valley with 72 waterfalls--including the Trümmelbach Falls, which you reach by descending into a gorge by funicular.
Ringgenberg
Interlaken's lakeside neighbor is just minutes away by train, bus, car, footpath, or lake steamer.
Wengen
You won't find any cars at this mountain resort near Interlaken, but you will find the Jungfrau, the Eiger, and some of the best hiking in the Swiss Alps. The setting is unbeatable: Wengen lies on a steep shelf overlooking the Lauterbrunnen Valley. Accommodations range from grand hotels to youth hostels.
Mürren (winter resort report)
There are no cars here--just plenty of great skiing near Interlaken and the Jungfrau, including the world's longest downhill race for amateur skiers. In the summer, hiking opportunities abound, and you can ascend the Schilthorn via aerial cablecar. (The revolving restaurant at the top was featured in a James Bond movie, On Her Majesty's Secret Service.)
City excursions
Thun
This medieval city on Lake Thun is 26 minutes from Interlaken by train or about two hours by lake steamer. (It's also a stop on the train route to Bern.) Thun has an unusual main shopping street with shops on two levels. Its castle that offers great tower views of the town and lake.
Bear Pits of Bern
The Swiss capital is 48 minutes from the Interlaken West railway station by train. Bern is named after bears (Bären), and bears are featured on the city's flag and coat of arms. The bear pits are a little depressing, but there are plenty of other things to do in Bern--most notably, exploring and shopping in the arcaded passages of the medieval downtown area.
Bern's Münster (Cathedral)
After you've seen the carvings and stained-glass windows, climb the tower for a panoramic view of Switzerland's capital city.
Hotel Restaurant Goldener Schlüssel, Bern
For location and price, this hotel in the Swiss capital's medieval center is hard to beat. Rooms are on the austere side, but you'll get an excellent breakfast in the hotel's attractive restaurant.
Marzili, Bern
In the summertime, grab your bathing suit and catch the funicular to a riverside swimming area below the Parliament building..
Swiss Parliament, Bern
When it's raining outside, the Federal Assembly chamber offers the best alpine view in Switzerland.
---