Jungfraujoch Railway
Page 2
Continued from page 1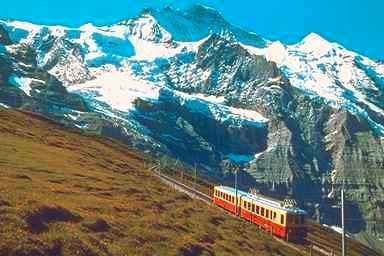 ABOVE: Approaching the Jungfrau.
At the Jungfraujoch
When you leave the train at the Jungfraujoch Station, take it easy to avoid dizziness and headaches. (Remember, you're more than two miles above sea level.)
There's plenty to do when you're on top of the Jungfraujoch--after all, the mountain has been a tourist destination for 85 years. You'll find an ice palace (free with your train ticket), dogsled rides, a weather station, ski lessons, a restaurant, and an observation post called the Sphinx terrace that you reach via a 364-foot (111m) elevator.
Minimizing your costs
Earlier, we asked the question, "Is it worth it?" That depends on your budget and how much you're willing to spend on what may be a once-in-a-lifetime experience. You can make it easier to rationalize a "yes" decision by taking advantage of these money-saving options:
Use your Swiss Card or rail pass. Railroad travelers with the Swiss Card pay less than 50% of the normal price on the Jungfraubahn. Holders of the Swiss Pass and Eurail Pass get smaller discounts. also get a substantial discount. Check with the Jungfraubahn for current discounts with Bernese Oberland and Jungfrau Railways passes.
Set your alarm clock. From May through October, you can save money with a "Good Morning Ticket." You'll need to catch the 8 a.m. train from Kleine Scheidegg and return from the Jungfraujoch station by noon.
Take the kids. Children under 16 travel free if they're listed on a Family Card, available at any railway station in Switzerland or from travel agents that sell the Swiss Pass.
For more information, visit the English-language Jungfrau Mountain Railway Web site.
Next page: Cheaper alternatives and a related article
---
---