Leukerbad (Loèche-les-Bains)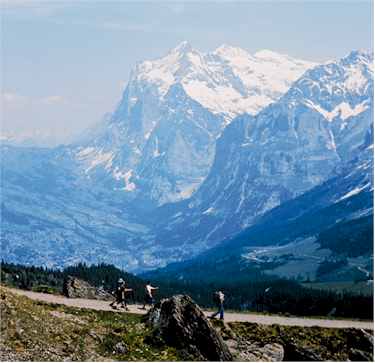 ABOVE: Mountain path above Leukerbad.
Leukerbad (in French, Loèche-les-Bains) has been a spa since Roman times. In 1336, Petrus de Tassignano wrote his Canones that dictated spa habits in Switzerland until the 1700s. The emphasis was on immersion, not imbibing, as Paul Bernard explained in his monograph on Swiss Tourism, Rush to the Alps:
At Fideris in the Grisons, whose waters were considered a specific for intermittent fevers, the usual immersion was five to six hours per day. At Leuk [Leukerbad] in the Valais it reached ten hours. The bathers were not immersed in separate tubs, but spent the whole time in a large pool, holding up to thirty or more persons of both sexes. The women were dressed in voluminous but loose-fitting and semitransparent garments, the men wore undershorts. Apart from the inevitable inconveniences arising from such an arrangement, contemporary medical fashion added yet others. Montaigne reported of sixteenth-century Baden that so many bathers were bled directly into the pool that this took on the appearance of a sea of blood.
Swiss medical bloodletting was passé by 1884, when Robert Allbut wrote The Tourist's Handbook to Switzerland, and the bathing attire was in line with Victorian sensibilities:
Leukerbad is principally frequented by reason of its thermal springs, abundantly supplying the bath-houses with warm water impregnated with lime, which is found curative of cutaneous diseases. It is a strange sight to visit these baths during the season, when the cure is in full operation. The bathers, who remain in the water for several hours, are dressed in flannel; floating tables are employed, providing refreshments in the shape of games, newspapers, and coffee. Visitors should not omit to shut the door and take off their hats, the greatest decorum in all things being duly observed.
So much for the old days. In today's Leukerbad, you can enjoy an afternoon's dip with a minimal covering of Spandex, and it's unlikely that your veins will be opened unless you've drowned and are being embalmed.
Make no mistake: Leukerbad is a Spa with a capital "S." Three million liters of water a day emerge from a depth of several kilometers at temperatures of up 124° F (51° C), and the water is rich in lime and sulphur--elements that, with the warm water, are claimed to alleviate the symptoms of skin diseases, arthritis, gout, gynecological conditions, weak circulation, and paralysis. The climate is also said to be stimulating (thanks in part to large quantities of sunlight), and the double whammy of healing waters and a healthy climate has led to the establishment of modern clinics for rheumatism, polio rehabilitation, and neurological disorders.
Practical information
Photo: Aztech Corp.