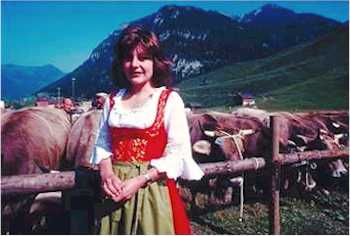 ABOVE: A Liechtenstein farm woman in traditional costume.
The Principality of Liechtenstein evokes several responses from most foreign tourists:
They've never heard of it, and/or they aren't sure where it is.
They'd like to visit it just to say they've been there.
They assume (incorrectly) that it was the model for Leonard Wibberley's novel and subsequent movie, The Mouse That Roared.
It isn't surprising that most travelers know little about Liechtenstein: The country measures about 4 miles wide by 16 miles long (6.5 x 24 km) and has a mere 31,000 inhabitants. With a population of 4,900, Vaduz--the capital and leading metropolis--is smaller than Montpelier, Vermont.
So what does Liechtenstein have to offer the visitor? Mainly, a pleasant break from more crowded tourist destinations--along with an intriguing look at a society that blends enlightened feudalism with modern constitutional democracy. In theory, Prince Hans Adam and the people share power equally, and in practice the "democratic monarchy" combines economic prosperity with political freedoms that citizens of many other nations might envy.
Cities and sights
Vaduz deserves at least a day and a night on any tourist itinerary. Besides exploring the town itself, you'll probably want to visit such attractions as the Liechtensteinische Landesmuseum (the National Museum), the Briefmarkenmuseum (Postage Stamp Museum), the Ski-Museum, and the Staatliche Kunstsammlungen (State Art Collections). The princely castle is also worth a close-up look, although visitors aren't allowed inside.
In the hills southeast of Vaduz, Triesenberg offers a folk museum, pleasant hiking trails, and scenic views of the Rheintal. The resort of Malbun has skiing in the winter, and the chair lift operates for hikers and tourists in summer.
Money and stamps
Liechstenstein uses Swiss currency, and Swiss customs regulations apply within the principality. However, you'll need to use local postage stamps when mailing cards or letters home.
Transportation
The nearest airport is Flughafen Zürich, about 80 miles (130 km) away, which has a railroad station underneath. Swiss and international trains stop in Buchs or Sargans, where you can catch a Postal Bus to your destination within Liechtenstein. See the transportation links on page 3 for local bus schedules and a railroad timetable.
By car, the N3 motorway from Zürich will take you toward Liechtenstein; other major highways bring traffic from Germany and Austria. Consult your road map for details.
Web links
The next two pages have links to Web sites for tourist offices, hotels, restaurants, shopping, rail and bus information, sporting events, bodyguards for hire, etc.
---