Liechtenstein
Page 3 - More Web Links
Continued from page 2
BELOW: Liechtenstein's flag.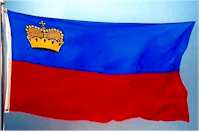 Liechtensteiner Blasmusikverband
Traditional music has been promoted by the LMV since 1926. Click "Vereine" for addresses of groups throughout Liechtenstein.
Harmoniemusik Vaduz
This band started as a brass ensemble in 1863; woodwinds were added in the 1890s.
Liechtenstein Bus
This site is in German; translate with AltaVista.

SBB CFF FSS Timetable
Plan your train trip to Liechtenstein with the easy-to-use Swiss Federal Railways timetable, fare guide, and online order form.
---