Rhine Falls (Rheinfall)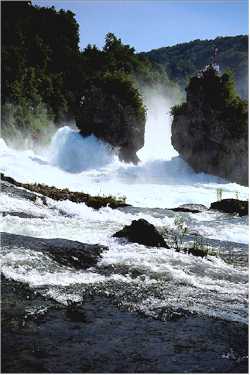 ABOVE: The Rheinfall is Europe's biggest waterfall.
The Rhine Falls, at Neuhausen am Rheinfall just below Schaffhausen, are Europe's most impressive torrent. Joel Cook wrote about the falls in his 1904 guidebook, Switzerland: Picturesque and Descriptive:
The Rhine flows in winding course southwest from Schaffhausen, and about two miles away is the famous Rheinfall, regarded as the most attractive in the volume of the waters in Central Europe. An irregular rocky ledge diverts the current and crosses the river, the Rhine taking three leaps over it, and describing a semicircle around it.

On the northern bank, the ledge is about fifty feet, and on the southern bank only sixty feet high. For some distance above there are rapids which make the total descent of the waters about one hundred feet. They are seen at their best in early summer, when the melting snows swell the current.

The geologists think, from the absence of all mention of this superb cataract in ancient history, the first record being in the tenth century, that the falls did not exist before that time, but were made by the gradual erosion of the softer rocks environing the river bed below them.

There are many points of good outlook at the magnificent display of brilliant emerald-green foaming waters that continually thunder down this superb cataract.
Reaching the Rheinfall
By railroad: Trains on line 760 in the Swiss Official Timetable leave the Zürich Hauptbahnhof at 13 minutes past the hour, arriving at Schaffhausen 38 minutes later. (You'll find other departures too, but the :13 trains tend to be the quickest.)
From Schaffhausen, you have three transportation options:
Walk west toward Neuhausen am Rheinfall (about 40 minutes).
Take a local train back to Neuhausen (3 minutes away), then walk to the falls. Follow the signs from the town center.
Ride the city bus to Neuhausen, then walk the short distance from the center to the north bank of the river.
It's a good idea to pick up a map at the tourist office to avoid getting lost. Also, when you reach the falls, cross the bridge to the south side of the Rhine for a dramatic view from the Schloss Laufen. (You'll pay a small fee to reach the viewing terraces; the castle has a souvenir shop and restaurant.)
In summer, you can take a boat to the large rock in the center of the falls for an even more impressive view.
By car: Two miles (3 km) south of Schaffhausen on the road to Zürich, turn at the sign that reads "Laufen: Rheinfall." Park in the tourist lot near the castle and follow the pedestrian signs.
Web links