"ALLEGRA! (ROMANSH) " Page 1, 2
Related Web site
Lia Rumantscha
The "Romansh League" promotes the Romansh language and Rhaeto-Romansh culture through libraries, courses, and publications. Scroll down to the bottom of the home page for a link to the site's English-language content.
Bibliography
If you're reasonably fluent in German, the following books may be helpful:
Rumauntsch: Puter
Ein Kleiner Sprachführer Führer den Alltag
Phillip Walther, Domenica Messmer
Societed da turrisem d'Engiadin' Ota
Paper, 84 pages
This book (see top photo) is an excellent introduction to the Puter dialect spoken in the Upper Engadine resorts of Canton Graubünden. It contains basic phrases, pronunciation, a grammar, and vocabulary lists.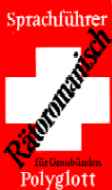 Polyglott-Sprachführer: Rätoromanisch
Sursilvan - Ladin
Rudolf Candrian, Altschuldirektor in Basel
with Prof. Dr. Pieder Cavigelli (Sursilvan), Prof. Dr. Oscar Peer (Ladin)
Polyglott-Verlag München
Paper, 32 pages
Polyglott is one of Europe's leading publishers of phrasebooks. This volume is divided into sections such as "Grammar and Pronunciation," "The Most Important Elements in Brief," "Trains and Postal Buses," Food and Drink," etc. It includes phrases in Ladin (spoken in the Engadine) and Sursilvan (Western Graubünden).
Dicziunari tudais-ch - rumantsch
Reto R. Bezzola e Rud. O. Tönjachen
Lia Rumantscha
Hardcover, 1278 pages
An astonishing amount of research and work went into this hefty German-to-Ladin dictionary, which was first published in 1944 and updated in 1982.
>> Page 1, 2, 3, 4