Scuol-Tarasp-Vulpera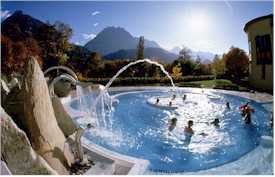 ABOVE: After a long morning on the slopes, soothe your aches in the thermal baths at the Engadin-Bogn-Scuol Center. (SNTO
The resorts of Scuol, Tarasp, and Vulpera are scattered along the Inn River in the Lower Engadine region of Canton Graubünden, not far from the Austrian border. In the summer, Scuol and Tarasp are popular health resorts where German and Swiss visitors treat their ailments with waters from various mineral springs. And from mid-December through April, the villages take on a different character as skiers and snowboarders flock to the slopes.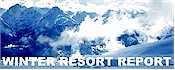 One thing needs to be said up front: Scuol, Tarasp, and Vulpera aren't dedicated to large-scale tourism like St. Moritz and Verbier. They appeal more to sports enthusiasts who come for good alpine skiing (including the Engadine's longest ski run), snowboarding, ski touring, cross-country skiing, and 30 km of winter walking paths.
Of the three resorts, Scuol (a.k.a. Schuls) is the biggest and liveliest with more than 3,000 tourist beds in 20 hotels, some two dozen restaurants, and a handful of bars. It also has the most skiing facilities, including 80 km (50 miles) of ski trails, a 12-km (7.5-mile) "dream piste," and a ski and snowboarding school with 100 instructors. A "snowpark" on Motta Naluns offers a full assortment of thrills and spills for the snowboard set. For details, see the "Winter Sports" listings on page 2.
Reaching Scuol-Tarasp-Vulpera
By rail. From Zürich, you can reach the Scuol-Tarasp station via Landquart and Davos (minimum time 3 hours 35 minutes) or Chur and Samedan (about 5 hours). The area is served by the Rhaetische Bahn, an electrified narrow-gauge railway that travels through some of the loveliest scenery in Switzerland. See page 3 for transportation-related Web links.
By car. Scuol is in Graubunden, approximately 220 km from Zürich and 60 km from St. Moritz. For road directions, use the Via Michelin or Finaroute journey planner.
Photo copyright © Switzerland Tourism.