Skiing & Snowboarding Sites:
Austria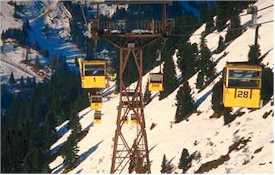 ABOVE: Lifts in St. Anton, Vorarlberg.
Planning a winter trip to Austria? Use these articles and Web sites to check facilities and snow conditions at Swiss ski and snowboarding resorts. Also see Skiing & Snowboarding Sites: Switzerland if you're headed for that country.
My articles
Winter Resort Reports austriaforvisitors.com
Read detailed articles on Austrian and Swiss ski resorts. Many are illustrated, and all include Web links.
Skiing sites
TISCover
Click the "Englisch" link (available on most pages) to read this Austrian site's descriptions of skiing and other vacation activities in Österreich.
Weather and snow conditions, Webcams
Photos: Corel. May not be reproduced or redistributed.