St-Ursanne, Jura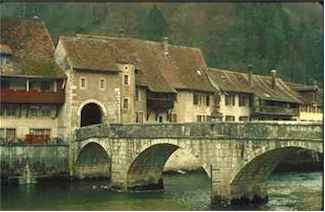 ABOVE: St-Ursanne and its bridge over the River Doubs.
Towns that are picturesque, off the beaten path, yet easy to reach aren't commonplace in a nation as small as Switzerland. One village meets all three requirements, however: St-Ursanne in the Doubs Valley of Canton Jura, not far from the French border.
St-Ursanne is a quiet medieval town of 981 inhabitants that dates back to the 7th Century, when the Irish monk Ursinicus built a hermitage by the river. The Collegiate Church was begun in the 12th Century, and a stone bridge from the early 1600s (see photo) is guarded by a statue of St. John Nepomucene, the patron saint of bridges. The town also has turreted gates, historic fountains, and remnants of an old castle on the ridge overlooking the valley. And for tourists who prefer activity to architecture, the river offers plenty of opportunities for trout fishing, kayaking, and other distractions.
How to reach St-Ursanne
St-Ursanne is on the road between Porrentruy and Delémont, or about an hour from Basel with a shortcut through France. Consult a road map or Finaroute for directions. (Finaroute's free online trip planner includes travel times and a simple map.)
Better yet, take the train. A line from Boncourt to Porrentruy and Delémont (or v.v.) stops just outside St.Ursanne, where a connecting bus drives the four minutes into town. To plan your journey, see the SBB CFF FSS online planner or train schedule 240 and bus schedule 240.45 in the Swiss Official Timetable.
Related Web sites