Stockhornbahn
(Bernese Oberland)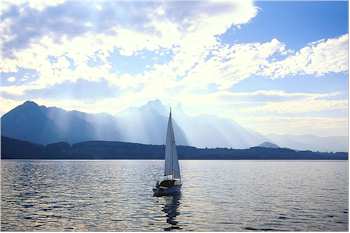 ABOVE: A boat on Lake Thun sails toward the Stockhorn.
The Bernese Oberland's funiculars, cable cars, and mountain railways are often packed with tourists during the high season. When you've had your fill of the crowds on the Jungfraujoch Railway or the Schilthorn, take time to visit some of the region's less known (and less expensive) alternatives--such as the Stockhornbahn, a two-stage aerial cable car that takes 14 minutes to reach an elevation of 2,190 meters (7183 feet) above the Simmental and Lake Thun.
From the Stockhorn's summit, you'll enjoy panoramic views of the lake, the high Alps, the Bernese lowlands, and even the Jura (weather permitting). But that's just the most obvious of the Stockhorn's attractions, which also include:
Nature paths
The Stockhorn is famed for its wildflowers and other botanical offerings. From the intermediate Chrindi station of the Stockhornbahn, you can follow the Stockhorn Nature Path (3 hrs. 30 min.) or hike downhill through meadows and forests to the village of Därstetten (4 hr. 45 min.) Another option is the alpine botanical trail or "flower path" to the summit, where you can return to the Stockhornbahn's valley station at Erlenbach im Simmental by cable car.
Fishing
The Stockhorn has two pretty mountain lakes on its slopes: the Hinterstockensee and the Oberstockense. You can catch up to six trout per day by purchasing an angler's Tageskarte (day card) in the Stockhornbahn's valley station.
Bungee jumping and hang gliding
Alpin Raft in Interlaken offers 100m bungee jumps above the Hinterstockensee on during the summer season.
For hang gliding, telephone Franz Meyer in Erlenbach i. S. at 033 684 14 94 or 033 681 19 76.
In the Diemtigtal (on the other side of the Stockhorn from Erlenbach), Orion Flugsport AG offers hang gliding and paragliding instruction. Write or call:
Orion Flugsport AG
CH-3753 Oey
Tel. 033 681 19 76
Hang-glider passenger flights are available from:
Chr. Balmer
Lenggasse
CH-3753 Oey
Tel. 033 681 21 08
Skiing
During the winter ski season, the Stockhornbahn offers lift tickets by the day, half-day, and week.
Schedules, travel information, Web links