Swiss hiking tours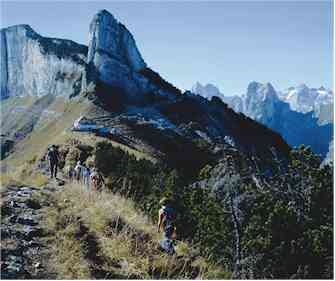 ABOVE: Hikers near the Hoher Kasten in Canton Appenzell (Eastern Switzerland)..
Hiking is one of Switzerland's leading vacation pursuits, and more than 30,000 miles (50,000 km) of marked hiking paths criss-cross a nation that's barely twice the size of New Jersey. Cogwheel railways, funiculars, aerial cable cars, and chairlifts bring alpine paths within easy reach of resorts where you can enjoy a warm bed and a hot meal.
In a country where hiking is so easy to arrange, touring with a group may seem unnecessary. Still, there's a certain convenience in having an expert choose a scenic route, arrange hotels and baggage transfers, provide a running commentary on the local geography, and take charge in emergencies. The companionship of fellow hikers is another plus if you don't enjoy traveling alone.
In this article, I list tour organizers that offer hiking trips in Switzerland and Austria. Also see my article for solo hiking in Switzerland.
Hiking tour packagers
Alyson Adventures
Noteworthy feature: Gay/lesbian.
Photo: Aztech Corp