Swiss Fly Rail Baggage Coupons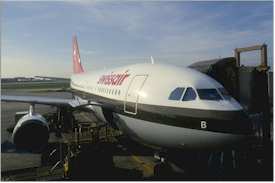 ABOVE: Check your luggage directly to the plane from 126 railroad stations in Switzerland. (SNTO
For years, the Swiss Federal Railways has offered a "Fly Rail Baggage" service that lets passengers check bags between foreign airports and Swiss railroad stations or vice versa. Today, the program has been expanded considerably, and new Fly Rail Baggage Coupons make it easier for North American visitors to use the service. Here's how the program works for transatlantic airline passengers from the U.S. or Canada:
1. Buy Fly Rail Baggage Coupons.
You can order these from Rail Europe, the Swiss Federal Railways subsidiary in North America. The cost is US $15 per coupon, and the coupons are valid for six months from the date of purchase. (See the Rail Europe link at the end of this article.)
Before heading for the airport, complete each coupon, which requires the name of the Swiss railroad station where you'll collect the luggage and a short customs declaration. Attach a coupon to each bag.
2. Check in at the airport.
Just check in as usual. Fly Rail Baggage Coupons are valid on any airline that flies to Switzerland from North America, and there are no extra steps required at check-in.
3. Pick up your luggage in Switzerland.
Swiss Federal Railways will collect your bags at the airport and send them to the railroad station that you've indicated on your Fly Rail Baggage Coupons. Since trains run often in Switzerland, there's a good chance that your bags will be waiting for you by the time you reach your destination city. (If not, they should arrive within several hours.)
Next Page > Westbound flights, Web links > Page 1, 2
Photo copyright © Switzerland Tourism. Used by permission.