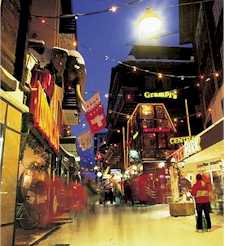 ABOVE: Zermatt's main shopping street.
Alps and atmosphere
Although the days when cows outnumbered tourist workers are long gone, Zermatt feels more like a village than you might expect--probably because the tourist economy is family-based, with no skyscraper hotels to blot the skyline. Age-darkened wooden chalets (many of which have been converted to hotels or shops) make the town considerably more atmospheric than newer resorts like Crans-Montana and Verbier. Best of all, Zermatt is a car-free resort, although pedestrians need to keep an eye out for electric taxis and delivery trucks.
There's plenty to do in Zermatt when you aren't schussing on the slopes. You'll find cafés, bars, nightclubs, and restaurants in profusion. In short, Zermatt is a nice compromise between the townlike atmosphere of Davos or St. Moritz and a quiet village like Andermatt.
Accommodations in Zermatt
Zermatt isn't an ideal resort for budget travelers. Prices tend to be high, thanks in part to the strength of the Swiss franc. Most of Zermatt's beds are in hotels, which are more expensive than the chalet-style group accommodations that British skiers have made popular in newer, larger winter resorts. However, rental apartments are available; see the Zermatt links on page 3, where you'll also find links to hotel listings.
If you're on a short financial leash, you can try the Zermatt Youth Hostel, although it's a long walk uphill from the town center. The hostel has 138 beds. The Hotel Bahnhof is more centrally located, with dormitories and simple bedrooms.
How to reach Zermatt
Zermatt is 3-1/2 to 4 hours by train from Geneva and about 4-1/2 hours from Zürich, with a change of trains at Brig or Visp.
If you're driving, you'll need to park your car farther down the valley. Täsch has parking lots and multistory garages, with minibus taxis and shuttle trains covering the 4.8-km (3-mile) distance to Zermatt. Another option is to use the free parking lot in Visp and buy a roundtrip train ticket for Zermatt.
Zermatt Tourism and Winter Sports Links
Next Page > Zermatt Web links > Page 1, 2, 3
---
---
---
Photo: Swiss-image.ch.