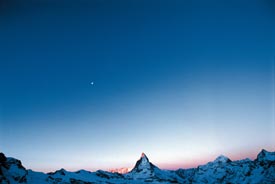 ABOVE: The Matterhorn, photographed from the top station of the Gornergrat cogwheel railway.
Web links
Official Tourism Site
Zermatt
The Tourist Office of Zermatt makes a good starting point for your trip planning.
Zermatt articles at Switzerland for Visitors
Gornergrat Bahn
Zermatt's GGB takes you to Matterhorn views and mountain hotels.
Matterhorn
If you suffer from acrophobia or can't afford the SF700+ guide fee, enjoy a view of Zermatt's mountain icon from the nearby Gornergrat. (You can reach the latter by cogwheel railroad.)
Riffelalp Resort
More than 40 years after the legendary Riffelalp Grand Hotel was destroyed by fire, a new and more intimate resort hotel occupies its site on a mountain plateau overlooking the Matterhorn and Zermatt, Switzerland.
Other Tourism Sites
GoZermatt.com
This commercial tourism site has listings for hotels, restaurants, local businesses, and more.
Matterhorn Museum - Zermatlantis
Don't miss this fascinating history museum during your Zermatt stay. Its exhibits include photos, models, and historical objects (such as the rope that broke after the first ascent of the Matterhorn, sending two climbers to their deaths).
Ski-Zermatt.com
This is one of the most detailed Zermatt ski sites, with accommodations listings and an informative About Zermatt page. It also has sightseeing recommendations for summer travelers.
---
---
---
Photo: Swiss-image.ch.