Zürich's Kloten Airport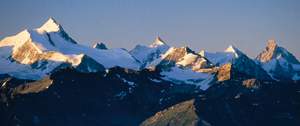 ABOVE: On the way to Zurich Airport.
Flughafen Zürich is located 12 kilometers (about 7 miles) from downtown Zürich in the suburb of Kloten. It's one of two major international airports in Switzerland, the other being Cointrin Airport in Geneva. There's a good chance that you'll arrive here if you're flying to Switzerland, since Zürich Airport is served by at least 60 airlines and charter services and is the hub of Swissair's worldwide flight network.
I don't normally think of airports as being pleasant, but Zürich Airport is a conspicuous exception. It's true that the occasional guard with a submachine gun can be intimidating, and on one occasion I saw a military armored car cruising the tarmac. But unless you've tucked a kilo of plastique into your luggage, you'll quickly forget about such matters and turn your attention to the airport's comfortable lounges, immaculate restrooms, great shopping, and other amenities.
Arriving
After leaving the plane, head for the arrival hall and go through passport control. This shouldn't take more than a moment or two. The Swiss immigration officials are much more efficient than their U.S. counterparts, and they wouldn't dream of herding visitors into long, slow-moving lines. Customs clearance is also simple: Unless you have something to declare, simply head for the Green Line after you've claimed your baggage. You're unlikely to be stopped unless you're carrying a box labeled "Hashish" or a crate of ersatz Swiss Cheese from Wisconsin.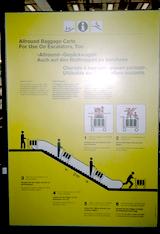 Baggage carts are free. They're also large enough to hold a family's luggage, and they're designed to go up and down escalators. Just make sure your luggage is firmly packed on the cart before you approach the moving staircase. Then grit your teeth, glance at the instruction placard (see photo), and push the cart onto the escalator. Hang on tight--the cart will tilt suddenly, but rubber extensions will catch on the steps and prevent the cart from taking an unaccompanied tour of the airport.
NOTE: You can take baggage carts down several flights of escalators to the platforms in the train station--and again, there's no rental charge.
Reaching Zürich