Zürich Public Transportation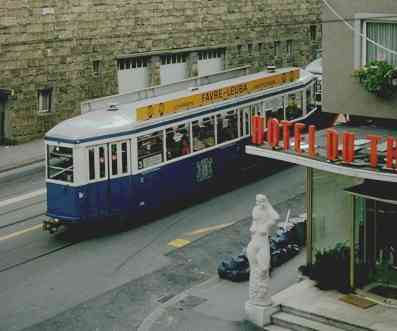 ABOVE: VBZ tram approaching the Central stop before crossing the Bahnhofbrücke to the main railroad station.
Zürich's ZVV public-transportation system has an efficient network of trams and buses that serve neighborhoods throughout the city. Most of the VBZ Züri-Linie routes pass through the Bahnhofplatz next to the main railroad station, and those that don't have connections to lines that do. This makes it fairly easy to reach civilization if you find yourself stranded in an unfamiliar part of town. The lines also connect with commuter trains that serve Zürich and the surrounding region.
Unfortunately, the system can be confusing to newcomers (and to locals, too, for that matter). Here are some tips to help you get around Zürich on trams, buses, and trains:
Buy before you board
Don't board without a ticket, or you could be fined. Instead, buy a ticket from the vending machine at the local Haltstelle (stop) or from one of the manned "Ticketeria" booths around the city. The latter are open mostly during business hours, although the Ticketeria at the Hauptbahnhof (main railway station) is open daily from early morning until 7 p.m.
Tickets vary in price according to the number of zones in your journey.
A Kurzstrecke ticket is good for up to five stops within 30 minutes of purchase. The price is CHF 2.10 in second class, or CHF 1.70 for kids from 6-16. (Children 5 and under travel free.)
Most journeys of more than five stops within the city limits can be covered with a 1-2 Zonen ticket, which is good for an hour and costs CHF 3.60 (CHF 2.60 for kids).
Discounts and tourist passes