Living and Working
in Switzerland and Austria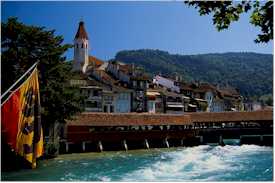 ABOVE: Thun's dam across the River Reuss is also used as a pedestrian bridge. (The city of Thun is a short train ride from Bern, the capital of Switzerland.)
---
What skier hasn't dreamed of owning a chalet in Switzerland, and what fan of Viennese Schrammelmusik hasn't thought how nice it would to live in Austria? Unfortunately, turning the dream into a reality isn't always simple. Even if you speak the local language like a native, you've still got to deal with practical issues like visas, work permits, relocation, and adapting to your new environment.
Switzerland
The Swiss make it very hard to establish residence as a foreigner. University students and boarding-school pupils are welcome, and "guest workers" in industries like tourism and construction may be able to obtain short-term work permits, but it's extremely difficult to live in Switzerland for an extended period unless you're a wealthy retiree or artist, a moneyed political refugee, an employee of an international organization, or a worker with badly needed technical skills. (Computer programmers are likely to qualify, and dental hygienists have been known to obtain work permits.) For more information, click the links on the page below:
Living and Working in Switzerland
Austria
Citizens of the European Union have the right to live and work in Austria. If you're from outside the EU, you'll need to obtain a visa and--if applicable--a work permit. The latter can be hard to obtain unless you work for an international organization or have essential skills that Austrians and EU citizens can't provide. For more information on living and working in European Union countries, see the Living/Working section of Durant Imboden's Europe Travel Planner at Europe for Visitors.