Hôtel des Trois Couronnes
Vevey, Switzerland
From: Luxury Hotels on Lac Léman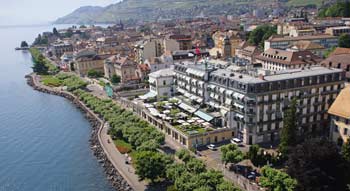 ABOVE: The hotel and the town of Vevey. INSET BELOW: Another view of the building, which opened in 1842 and was enlarged in 1890.

The Hôtel des Trois Couronnes was named Switzerland's "Hotel of the Year" in 2003, but the hotel's reputation is hardly new: According to Switzerland Tourism, the Vevey hotelier Gilbert Monnet opened the Trois Couronnes in 1842, when "there were few hotels on the shores of Lake Geneva that could measure up to it as far as size and interiors were concerned."
Although the "Hotel of the Three Crowns" looks quite large, it's the smallest and most intimate of the three hotels profiled in this article: It has only 55 bedrooms and suites, with public rooms--including a three-story atrium with marble columns--occupying much of the building's interior. Rooms are large, ceilings are high, and the atmosphere is one of Belle Époque elegance with 21st Century touches (such as a fitness center in the sort of room where diplomats might have signed a peace treaty at the time of the Spanish-American War).
The hotel's surprisingly reasonable rates include access to the grotto-inspired Cures Destination Spa (see photos on next page), where you'll find an indoor pool with underwater music, a sauna, a steam bath, a fitness center, and relaxation areas with views of the Alps. Massages, facial, and beauty treatments are available, including treatments with plant-based skincare products from Joëlle Ciocco of Paris.
If spa treatments aren't enough, you can book cellular revitalization cures and other therapies at the independently managed Clinique Paul Niehans, which occupies a wing of the hotel.
Food and drink are offered in a Louis XV-style restaurant with an outdoor terace and the Veranda piano bar. The Puressens Spa serves light meals and healthy drinks.
Location: The Hôtel des Trois Coronnes is on the lakefront in Vevey, a town of 16,000 whose famous residents have included Jean-Jacques Rousseau, Fyodor Dostoevsky, Graham Greene, and Charlie Chaplin. Vevey, which is only 45 minutes from Geneva Airport, is a convenient base for exploring the winegrowing region along the shores of Lac Léman.
Hotel Web site: www.hoteltroiscouronnes.ch
Next page: Hôtel des Trois Couronnes photos
---
---