ABOVE: Plastic boots for sale in the Piazza San Marco.
Venice Travel Blog: Acqua Alta
The "Flooding" category of our Venice Travel Blog has photos, firsthand reports, and advice on what to expect and do during acqua alta.
City of Venice: Acqua Alta (High Tide)
This English page from the Comune di Venezia offers more insights into the acqua alta phenomenon. The city's Italian-language acqua alta forecast page may also be useful. (Click here and scroll to the "Scarica i segnale" links to hear sample acqua alta sirens and warning tones in MP3 format.) Don't miss the maps of passerelle (raised walkways, shown by sestiere or district).
hi!tide Venice app (Android or iOS)
Download Venice's free--and official--tidal-forecast iPhone app or Android app for your smartphone.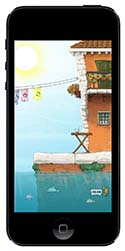 Venice tides app (iOS only)
If you're traveling with an iPhone, iPad, or iPod Touch, download either the full (and inexpensive) or lite (free) version of Pugosoft's easy-to-use acqua alta forecast app, shown at right. (See our blog post.)
Venice Against the Sea: Flood Zone
This interactive National Geographic map can be excruciatingly slow to load, and some parts of the historic center aren't shown, but the map gives some idea of where the most flood-prone areas of the city are. (Slide the yellow-orange bar up or down on the color-coded map legend to view flooding at different tide levels.)
Mail Online: The Floating City
These large, dramatic photos show flooding on November 11, 2012, when Venice had the sixth-highest tide level in 150 years.
Italy Heaven: Venice Floods: 1st December 2008
This eyewitness account by a British writer describes an unusually high acqua alta several years ago.
Acqua alta overshoes
Goldon
This Italian company makes emergency plastic boots that weigh only 350 grams and come with a carrying pouch. You can order them online if you have an address in Italy. (Otherwise, you can buy a pair in Venice.)
Videos
See Google's acqua alta video results, especially the YouTube video of an acqua alta in 2005. (These will open in a new browser tab.)