---
Bottega del Tintoretto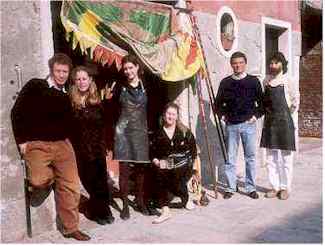 ABOVE: This 1999 photo shows staff member Florence Faval of Geneva (second from left), art student Ann Aspinwall of New York (third from left), and director Roberto Mazzetto (far right). Juli Van Zyverden, a longtime American resident of Venice, is seated by the workshop doorway.
Practical information
The Bottega del Tinoretto's hours are 10 a.m. to 1 p.m. and 2 p.m. to 5 p.m., Monday to Saturday. Students should register at least two weeks before the beginning of a course. If students or visiting artists don't have accommodations, the Bottega can arrange for rooms at a B&B in the neighborhood.
For more information (mostly in Italian, but with some English), visit the Bottega's Web site at www.tintoretto.it. Or contact:
Roberto Mazzetto
Bottega del Tintoretto
Fondamenta dei Mori 3399/a
Venice, Italy
Tel: (39) (0)41-722.081
e-mail: [email protected]