Brek Self-Service Restaurant
by Durant Imboden
Brek Ristorante is a chain of self-service restaurants and snack bars with about two dozen branches scattered around Italy. The company, which has been in business since 1975, caters to a diverse audience that includes families, workers on lunch breaks, and budget tourists.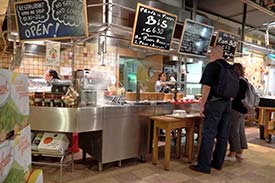 ABOVE: Customers place their orders in Brek's self-service restaurant.

Brek has a branch in Venice near the railroad station, along the main route to the Piazza San Marco. On a sultry evening in July, a Brek blackboard's promise of air conditioning was too tempting to resist, and I followed a handful of tourists into the pleasantly cool restaurant (which is well beyond the entrance from the street, past the snack bar's espresso machine and take-out food counters).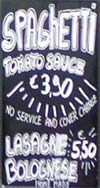 As I approached the dining room, I saw a buffet serving station. The cafeteria-style menu included pastas, meats grilled to order, a salad bar, and other items. (The menu on Brek's Web site shows a long list of soups, risotti, pastas, gnocchi, lasagne, hamburger steaks, chicken, roast beef, vegetables, and more, but not everything on the list was available during my visit.)
I picked up a tray, placed my order, and waited while the woman behind the counter made a fresh batch of green ravioli with butter sauce. I later added a slice of apple tart, a roll, and a bottle of Pilsner Urquell beer to my tray on my way to the cash register. The meal's total cost was €11,30--an excellent deal by Venetian standards.
The food wasn't up to the standards of Autogrill's Ciao Ristorante buffets elsewhere in Italy, especially in the dessert category. Still, my moderately-priced meal was decent enough, and Brek is worth considering if you're near the railroad station and want to enjoy a casual sit-down lunch or dinner without spending a lot of money. On a hot summer day, the air conditioning is welcome--and in more benign weather, you can carry your tray through the dining room's glass doors to a table in the garden.
Where to find Brek in Venice: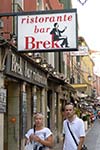 Brek is on the Rio Terà Lista di Spagna, the busy pedestrian street to your left as you exit the Venice Santa Lucia Railroad Station. It's only a minute or two from the station as you walk toward San Marco. Look for the entrance on your left, beneath a sign that reads "Ristorante Bar Brek."
Again, the ristorante is behind the snack bar, so ignore the food counters near the front and continue toward the back of the building, where you'll see the serving station in the photo at the top of this page.
The last time we checked, the restaurant's hours of operation were 11:30 a.m. to 3 p.m. and 6:30 p.m. to 10:00 p.m., seven days a week. (The snack bar inside the entrance is open from morning until late evening without a break.)
Brek in Mestre:
You'll also find a Brek Ristorante Self-Service at Via Carducci 54 in Mestre, on the Venetian mainland, where thrifty tourists often stay to save money on hotels or parking. (From Mestre, it's a 10- to 12-minute commute by train to Venice and another 3 minutes on foot to Brek on the Rio Terà Lista di Spagna.)
For more pictures of Brek's Venice restaurant, go to page 2 of this article.
Next page: More photos: Brek Venezia
---
---
The premier travel-planning site
for Venice, Italy since 1997

---

Too many bridges, too little time?
Choose from handpicked Venice hotels (in all price ranges) within 0, 1, or 2 bridges of airport buses, taxis, trains, cruise piers, and airport-boat stops. We show maps, directions, booking links, and hotel Web sites.
» Click for easy-to-reach hotels
---
---
Venice for Cruisers:

---

Need a car in Europe?
Auto Europe guarantees the lowest rental rates for standard cars, sports cars, SUVs, luxury cars, chauffered sedans, and RVs. Its Web site also has driving information for 38 countries.
If you live outside the EU, a tax-free Renault or Peugeot tourist lease can be cheaper than renting. Minimum driver age is 18, there' s no upper age limit, and rates include insurance. See: Short-term car leasing.
---
Our blogs:

---