---
Campanile di San Marco
Page 2
Continued from Page 1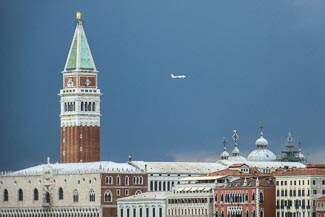 A bell for every occasion
The Campanile's five bells were intended to communicate five different messages. The largest signaled the beginning and end of each work day; another rang the hour; a third called senators to the Doge's Palace; the fourth summoned magistrates; and the smallest--il Maleficio--was rung to announce executions of the prisoners who dangled in cages halfway up the tower's walls. The bells are still rung today, but only to maintain tradition and entertain the tourists.
A symbol for separatists
On May 9, 1997, a band of young Venetian separatists hijacked a ferry, drove their homemade armored car and camper van aboard, and steamed up the Grand Canal toward the Piazza San Marco. Upon landing shortly after midnight, the eight would-be revolutionaries smashed through the Campanile's entrance door and made their way to the top. The group then hung a banner with the Lion of St. Mark from the tower windows and announced that "a regular unit of the Most Serene Venetian Army has tonight liberated St. Mark's Square."
According to news reports, the escapade was scheduled as a prelude to the 200th anniversary of Napoleon's conquest of Venice, which signaled the end of the thousand-year-old Venetian Republic. Carabinieri (paramilitary police) used a telescopic ladder to reach a balcony on the tower, then climbed to the top and arrested the invaders. No one was hurt, and the Northern League--Italy's main separatist party--later characterized the protesters' actions as "madness."

On a clear day, you can see forever
Providing you aren't dressed up in combat fatigues and carrying weapons, you can see the Campanile's bells at close range for the price of a ticket. (Enter on the Piazzetta side, around the corner from the exit on the Piazza San Marco.) The tower normally opens daily at 9:30 a.m., with closing times that vary according to the season. If you aren't athletic, don't worry--an elevator will whisk you to the viewing platform, providing your feet can stand waiting in line on busy summer days and holiday weekends.
Back to: Campanile di San Marco - Page 1
---
---
---