Walking in Venice
Page 2
Continued from Page 1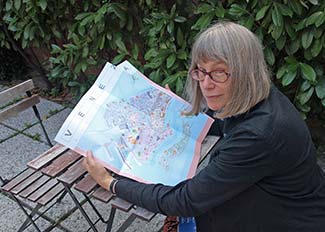 ABOVE: Maps can be useful tools, but don't forget to simply look up and look around.
Buy a good map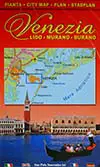 We prefer maps that are reasonably detailed (such as the Touring Club Italiano's 1:5000 Pianta della Città:Venezia), but if you aren't near a large bookstore, you can buy a simpler map--such as the popular map shown in the inset photo, which is available at most tobacconists, newsstands, and souvenir shops.

In fact, some of the cheaper maps (such as the one shown) have one advantage over more detailed street plans: They show Venice's six sestieri or districts in contrasting colors, which can help you figure out where you are when you see a sign like the one at left.
For more map suggestions, see our Venice Street Maps article.
Use the map only when necessary

It makes sense to look at your map before leaving your hotel, the railroad station, etc., just to get your bearings and to figure out a rough route. But don't stop at every corner to check the map: If you do, you'll quickly become frustrated, because street names in Venice change constantly, and a surprising number of streets aren't shown on even the most detailed maps.
The same rule applies to smartphone and tablet users. We recently saw a man walking along, staring continuously at the map on his iPad while his wife enjoyed the sights.
Remember: Venice is a compact city, and when you get lost, you're probably no more than a two- or three-minute walk from a square, a church, or another landmark. When in doubt, follow the crowd and the directional signs that are scattered all over the historic center (see page 3 of this article).
Next page: Directional signs
---
---
The premier travel-planning site
for Venice, Italy since 1997

---

Too many bridges, too little time?
Choose from handpicked Venice hotels (in all price ranges) within 0, 1, or 2 bridges of airport buses, taxis, trains, cruise piers, and airport-boat stops. We show maps, directions, booking links, and hotel Web sites.
» Click for easy-to-reach hotels
---
---
Venice for Cruisers:

---

Need a car in Europe?
Auto Europe guarantees the lowest rental rates for standard cars, sports cars, SUVs, luxury cars, chauffered sedans, and RVs. Its Web site also has driving information for 38 countries.
If you live outside the EU, a tax-free Renault or Peugeot tourist lease can be cheaper than renting. Minimum driver age is 18, there' s no upper age limit, and rates include insurance. See: Short-term car leasing.
---
Our blogs:

---