---
Gondolas and Gondola Rides
Page 2
Continued from page 1
By Durant Imboden
Where to hire a gondola
You'll find gondolas and gondoliers throughout the main tourist areas, from Tronchetto and the Piazzale Roma (where motorists park their cars) to the Rialto Bridge area, the Doge's Palace, and busy pedestrian crossings along the secondary canals. Chances are, you'll encounter men who politely ask "Gondola?" as you walk past the flotillas of parked boats.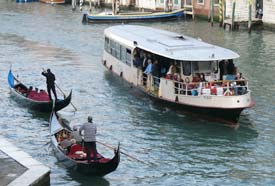 ABOVE: Two gondolas pass a vaporetto on the Grand Canal. INSET BELOW: Parked gondolas with oars tucked away, and a gondola flotilla in a side canal.
Tips:
Decide what kind of trip you want, then find a gondola stand in the area nearest your destination. For example, if you'd like to experience the hubbub of the Grand Canal, hire a gondola near the Doge's Palace or the Rialto Bridge. If, on the other hand, you'd rather tour the quiet and romantic side canals, book a gondola away from the vaporetti and water taxis. (The latter may be the best idea if boats make you nervous or if you're inclined to seasickness.)

If you'd rather not haggle with gondoliers, or if you prefer music with your ride, consider booking a tour through a travel agency. Viator offers online reservations for the Gondola Serenade Tour and other excursions; you can book ahead and lock in the price by prepaying in your own currency.

Are you interested in quick gondola ride that will cost you less than a candy beer? See page 3.
Next page: Cheaper alternatives and Web links
---
---
---